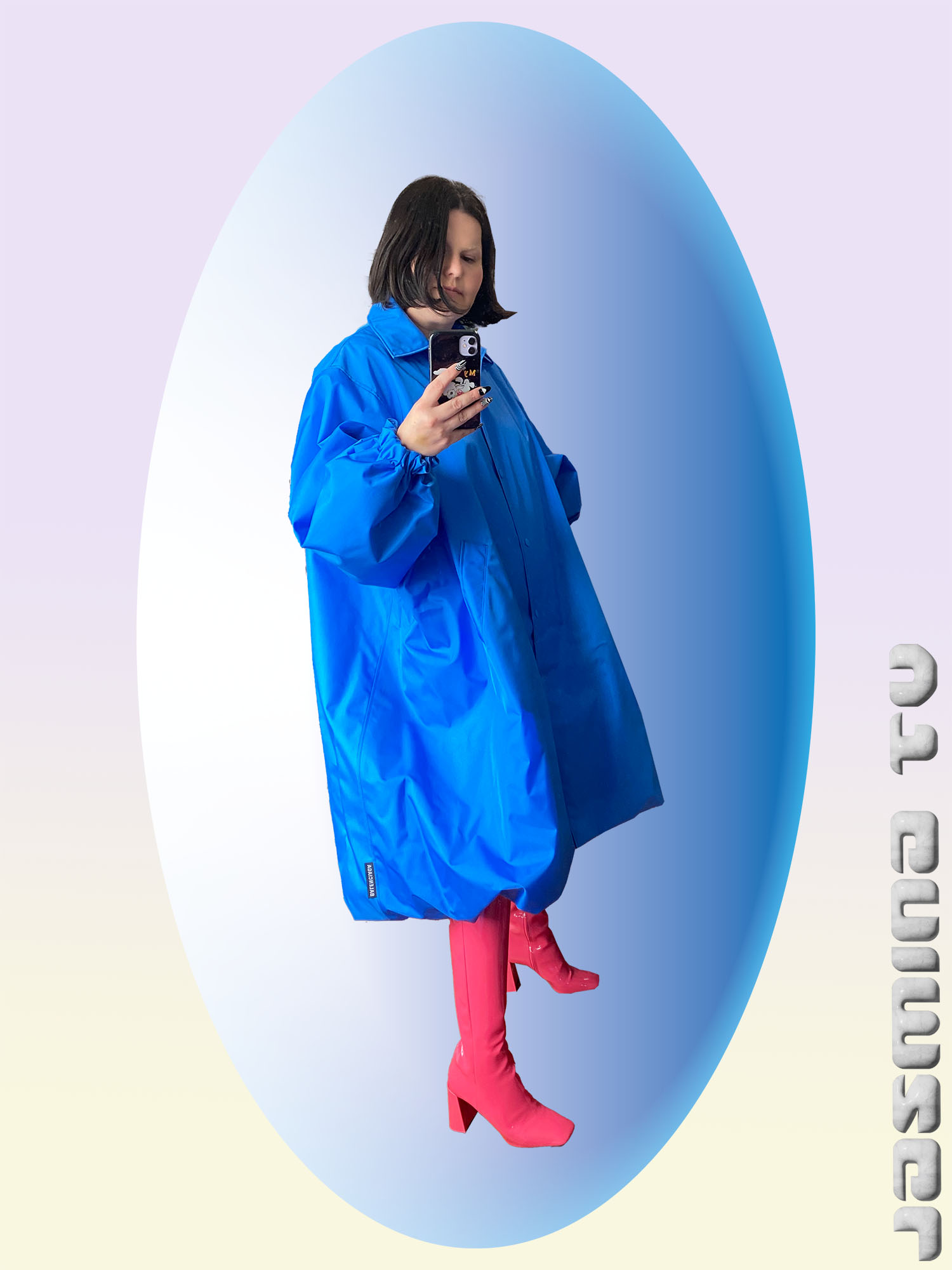 A few months ago, I came across a YouTube channel that finally captured fashion in a way that actually entertained me — and met my taste (which, at this point, is still rare on the video platform): Jasmina TV started her channel out of boredom and anxiety during the pandemic and might be one of the coolest and underrated people out there right now. The designer from LA is known for her flamboyant looks while sporting creations by labels and designers that make you drool (think Marni, Chopova Lowena Balenciaga). She even made me love the Balenciaga platform crocs, and that alone says a lot. For Gentle, she dived deep into her wardrobe and showed me her personal uniform, favorite shoes, latest (fashion) purchase, and fall fashion staples.
What's your personal uniform and why?
I don't know if I necessarily have a personal uniform… I tend to dress according to mood and there is a bit of cosplay when I get dressed… like if a dress gives me the feels of Princess Diana or Fran Drescher's "The Nanny" I will really play that up and also add something odd to it that twists it … recontextualize it a bit I guess:) … but if I have to think of my personal uniform as something that I gravitate to on a daily basis it would probably be an easy/loose dress that is still unique in some way (shape, color, texture, print…)  coupled with a fun / odd shoe that is easy to walk in… I have to be comfortable!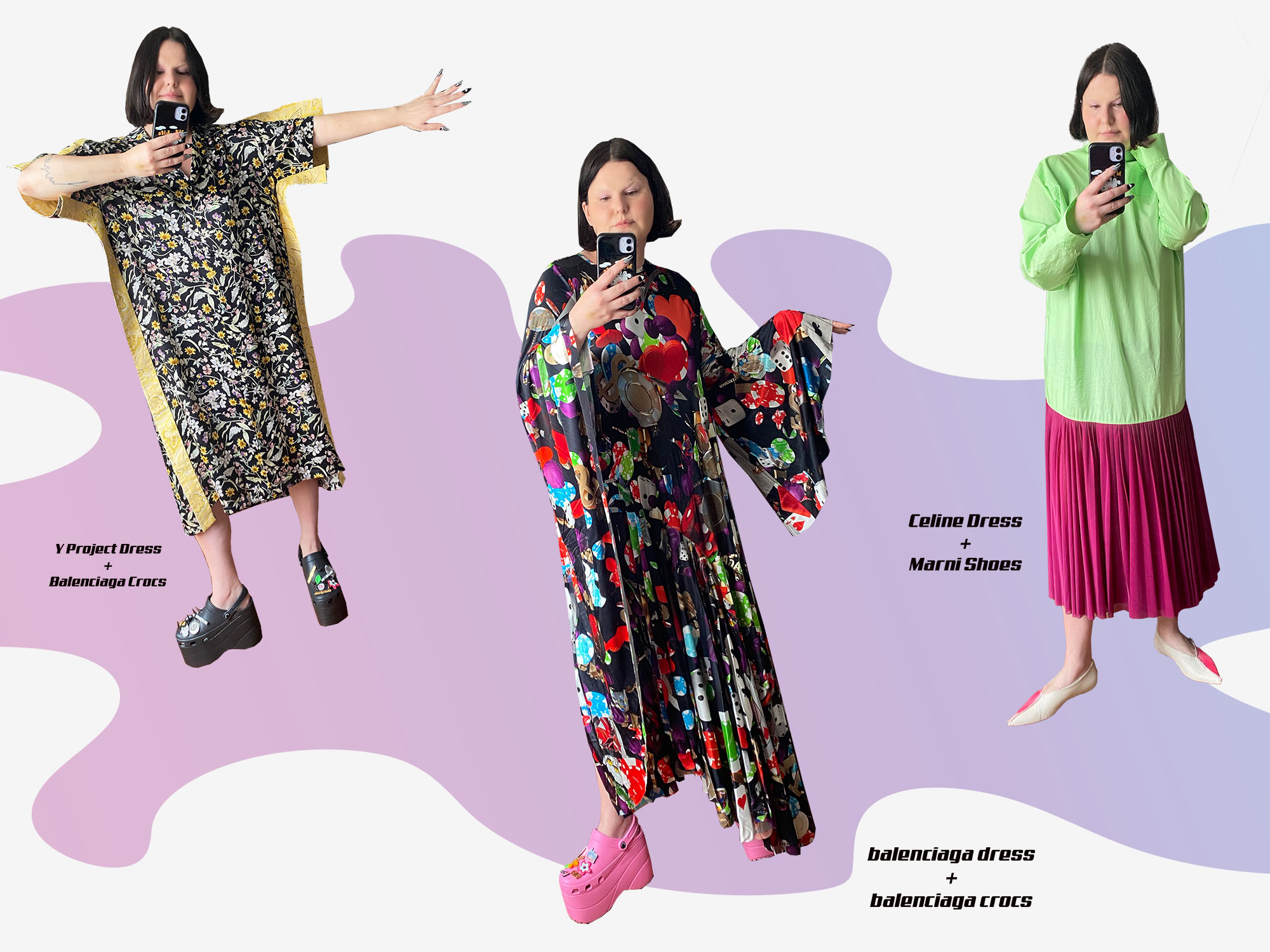 What's your absolute favorite purchase so far?
The last look (42) from the Céline Spring 2017 runway… It's the bubble gum pink cape dress that I've been obsessing over ever since I saw it walk down the runway… I got it from The Real Real a few years after its runway debut at a great discount so that also adds to why it's a favorite purchase! I'm also a bit of a Phoebe Philo Céline collector and that bubble gum pink dress was a holy grail.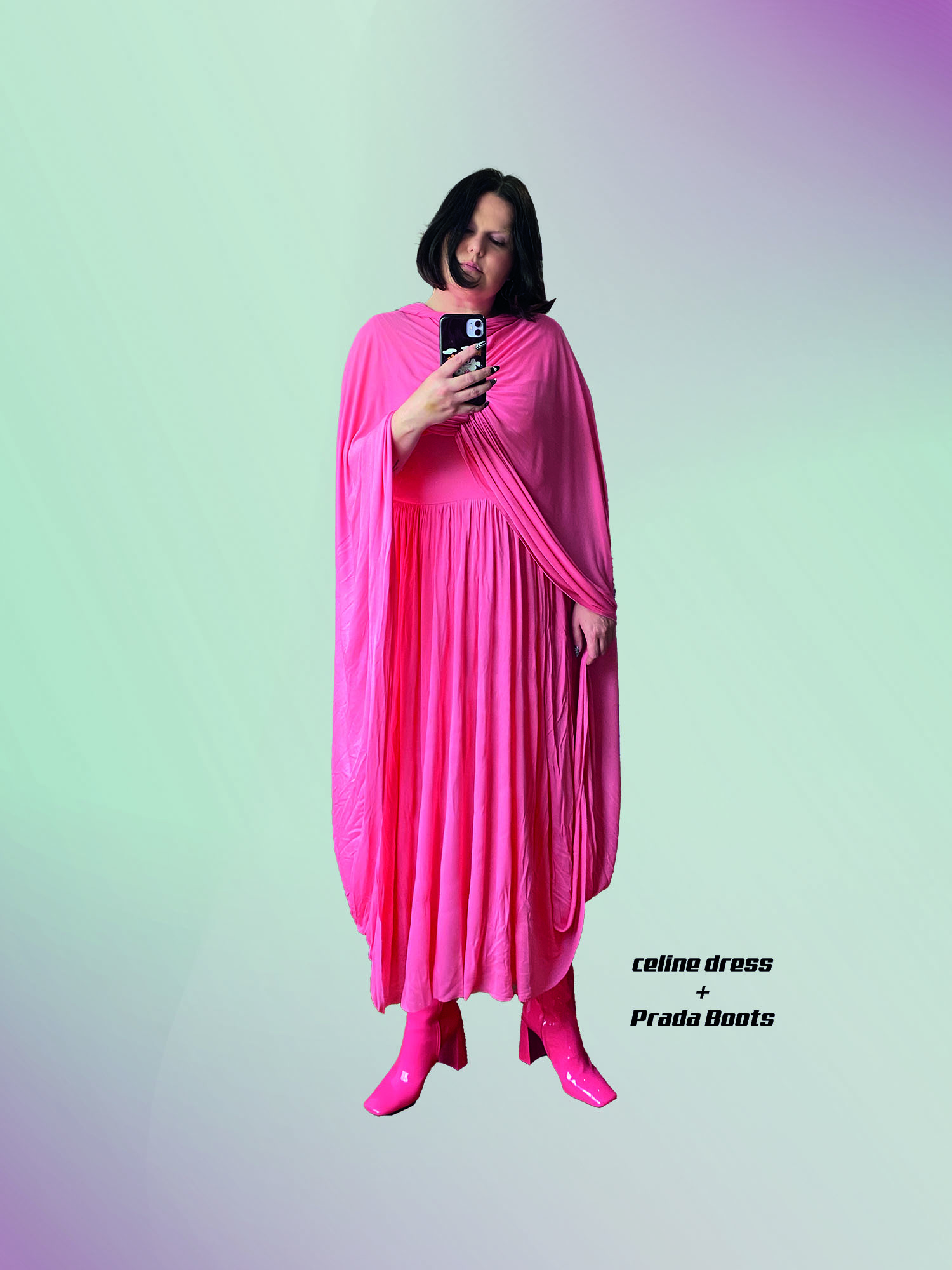 What is your latest (fashion) purchase?
I just purchased a fabulous Versus Versace short pink double-breasted trench jacket from @jamesveloria ( a vintage store in NYC)… I spotted it during the "A Current Affair" online shopping event, and I just couldn't resist… I'm a sucker for 90's Versace. I also purchased a Chopova Lowena pleated skirt on sale from Dover Street Market… I have been obsessing over Chopova Lowena and I was thrilled to find one of their pleated skirts on sale! One last item is this Rave Review top I purchased also on sale from LN-CC… Rave Review is another current obsession…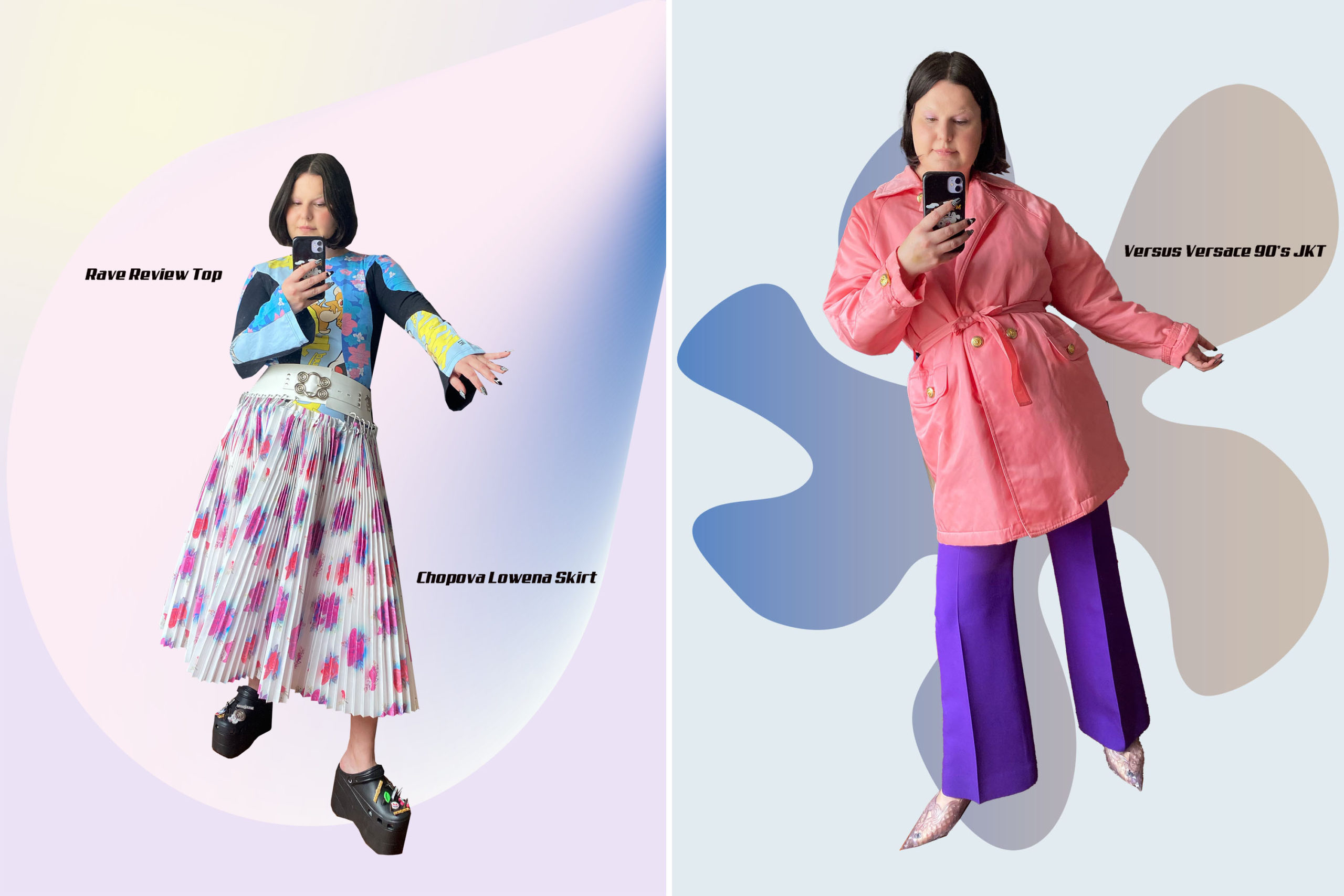 What are your fall fashion staples?
I love a statement coat paired with a fun comfortable boot. I got this Balenciaga opera coat at the Balenciaga Outlet just before summer started… I only got to wear it once before it was too hot, so I'm dying for things to cool down a bit so I can finally rock it!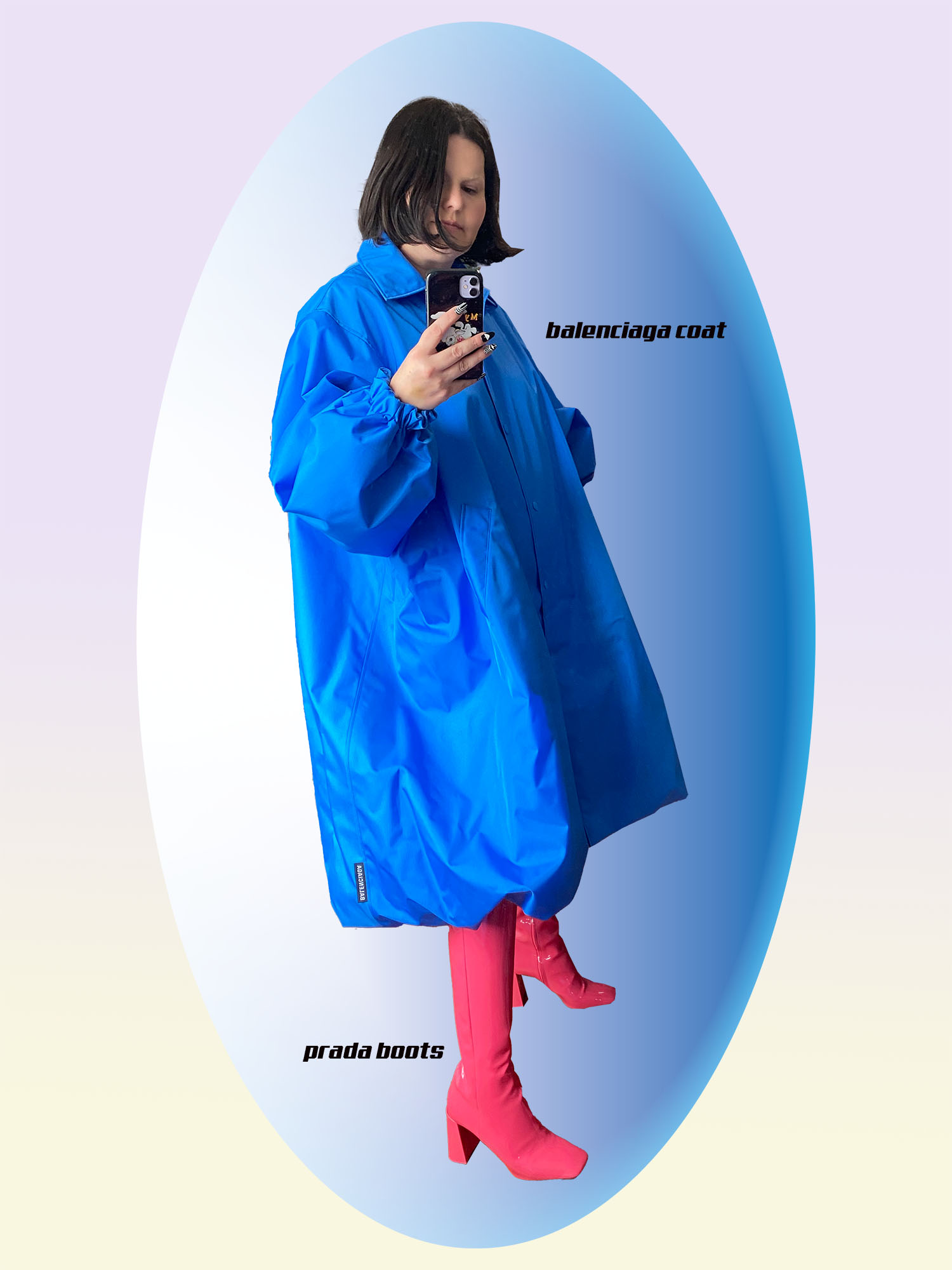 We would love to see your favorite bags!
My top 3 bags are as follows:
1. Chanel mini flap bag in this purple acid wash denim… I love Chanel bags but I tend to gravitate towards the more unique seasonal pieces. This bag is compact yet holds a lot, it's durable, it goes with everything, and it's my everyday go-to. I like that it's not too precious… it's a fun take on a classic.
2. John Galliano Miss Diorella Saddle Bag is another favorite… I'm obsessed with Galliano's Dior days and this bag is the embodiment of that… I have a dream to collect a bag from each of the most iconic Galliano Dior collections… I'm currently looking for a Dior Hardcore saddle bag with the piercings… would love to add that to my collection!
3. Marni Torpedo Bag is my newest bag purchase… it is from SS21 and I am obsessed with it… I love how unique this bag is… it makes everything you wear instantly cooler!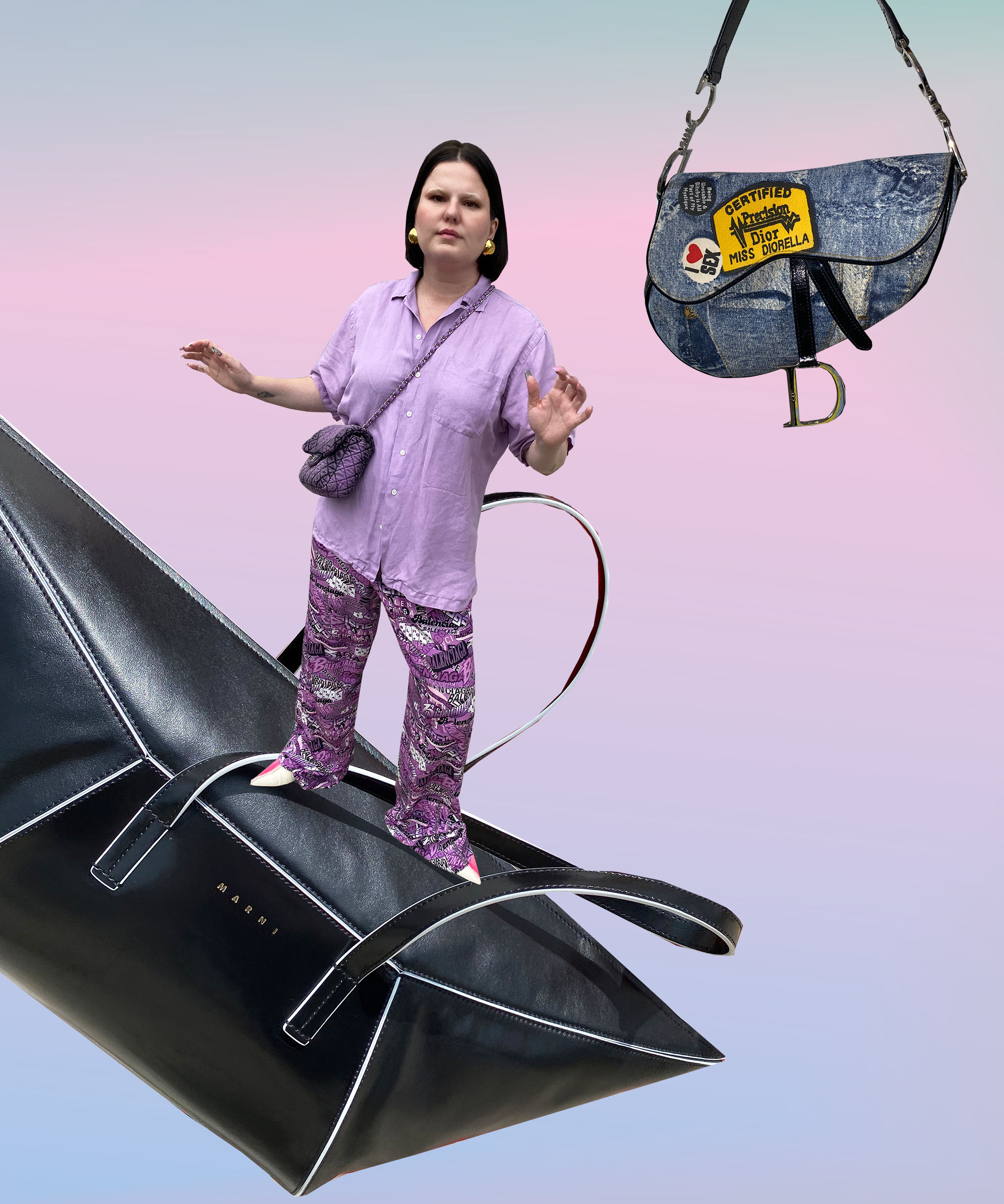 What about your all-time favorite accessories?
I obsessively wear these Dries Van Noten earrings that I purchased from the DVN store when it opened in LA last year… I didn't think I would wear them as much as I do but they're now just an extension of my ears lol… they just go with everything and make every outfit feel more put together and elevated… and  I pretty much wear this Elsa Peretti for Tiffany pearl choker every day as well due to the same reason… it just completes every look and it makes me feel like myself.
Would you also show us your favorite shoes? 
My favorite shoes are also my newest shoe purchase… they are these FW21 Prada jacquard boots and I am just obsessed with that whole collection that I got nails to match my boots! I've only worn them once so far (bc I just got them and it's still very hot here) but I can't wait to wear them all the time once the weather cools down.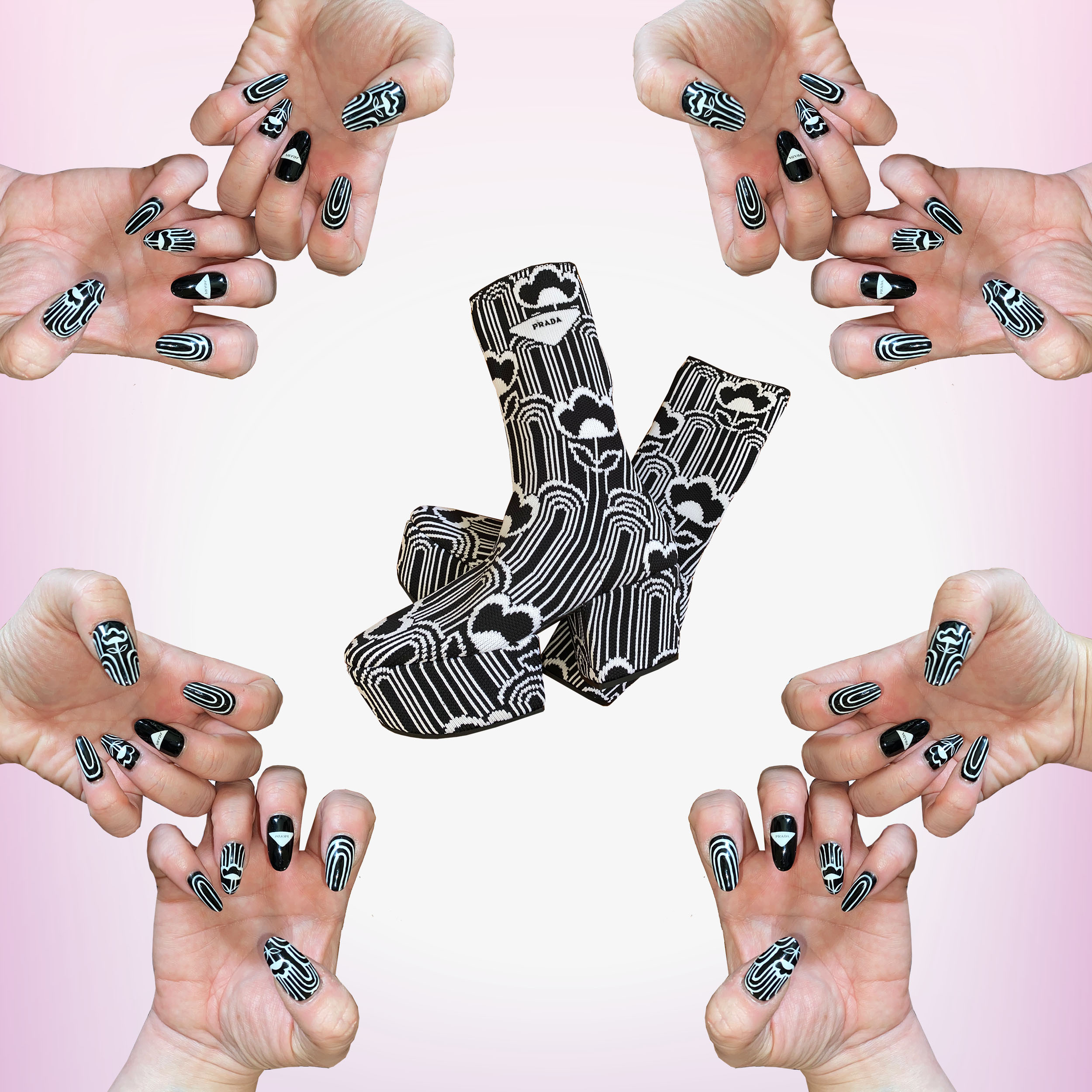 What's currently on your wishlist?
I would love the hot pink Versace Medusa Aevita platforms with matching hot pink tights! Marc Jacobs Heaven is so cute and I really want the "Virgin Suicides" skirt. And I have my eye out on this skirt and top from Chopova Lowena.
Thank you for sharing, Jasmina!

Collage artwork by Julia Carevic (images by Jasmina TV)