It is a grey gloomy day at the end of October when I meet Nelly at a café in SoFo, a place she suggested us to do the interview. SoFo is what one would refer to as the "lively" neighbourhood of the city, located on Södermalm, which is often described as the "hipster island" of Stockholm, probably because of the ateliers, vintage shops and cafés that inhabit the streets, of which some are blocked for cars and leave space for tables and chairs in front of restaurants and bars. SoFo can be loosely translated to the "South of Folgkungsgatan" and is a reference to New York's SoHo, just a little more quiet, a little more like Stockholm.
Although I enter the café ten minutes earlier, Nelly is already there, sitting at a table in the right corner of the café with her laptop in front of her and a cup of, what I guess must have been a cappuccino, next to her. I do not necessarily recognise her from the pictures I saw on Instagram, rather the pink orange striped sweater she wears, draws my attention to the table and makes me sure that this must be her. I sit across Nelly, who lived her whole 18 years long life in Stockholm, only interrupted by a three-year stay in Uppsala, which is a city one and half train hours from the capital, that felt "too small"  and like "everybody knew everybody" for her, so she is happy to be back. I discovered her knitwear on Depop. Long sweaters and dressed with wide sleeves, loosely knitted vests, long scarfs. 'Imaskopi' is the name of her brand. It is like a "a secret agreement," as when you decide to murder another person and it's your secret. "You make a pact, a maskopi," Nelly explains. 'Maskorna' can be translated to 'the stitches.' When her sisters suggested her the name, she went for it.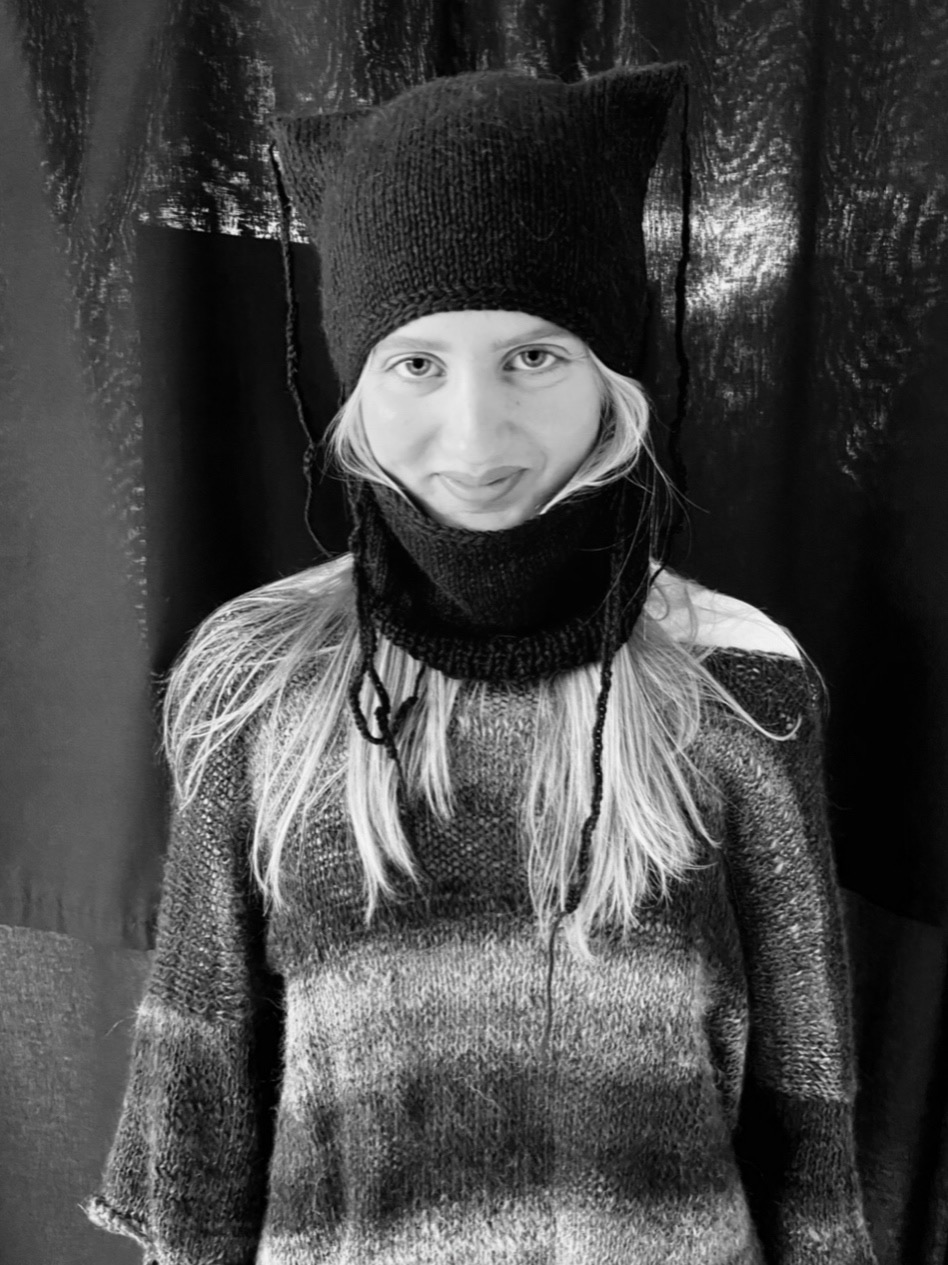 Her knitting journey began one year ago, although she already learned it in the first grade of school. "I felt under stimulated", she says. When she stumbled across a sweater her mum knitted when she was younger, she thought: This may be for me. So, she watched videos on YouTube to remind herself and got taught by her mum, who still knits today. "I always wanted to make clothes", she admits. "But I but I did not have the energy to start sewing." What she likes about knitting, is that  she can work without a pattern. "I think it is way more fun to construct my own pieces." Although this may make the process way more complicated than it has to be, it is the procedure of trying over and over again that intrigues Nelly. "I have to find my own solutions, my own tricks. I like that." Once she started, she bought a lot of yarns to make sure that she would not just quit after a week. Her trick worked and today, – one year later – she knits every day. "I just finished the sweater I'm wearing this morning", Nelly says with a smile.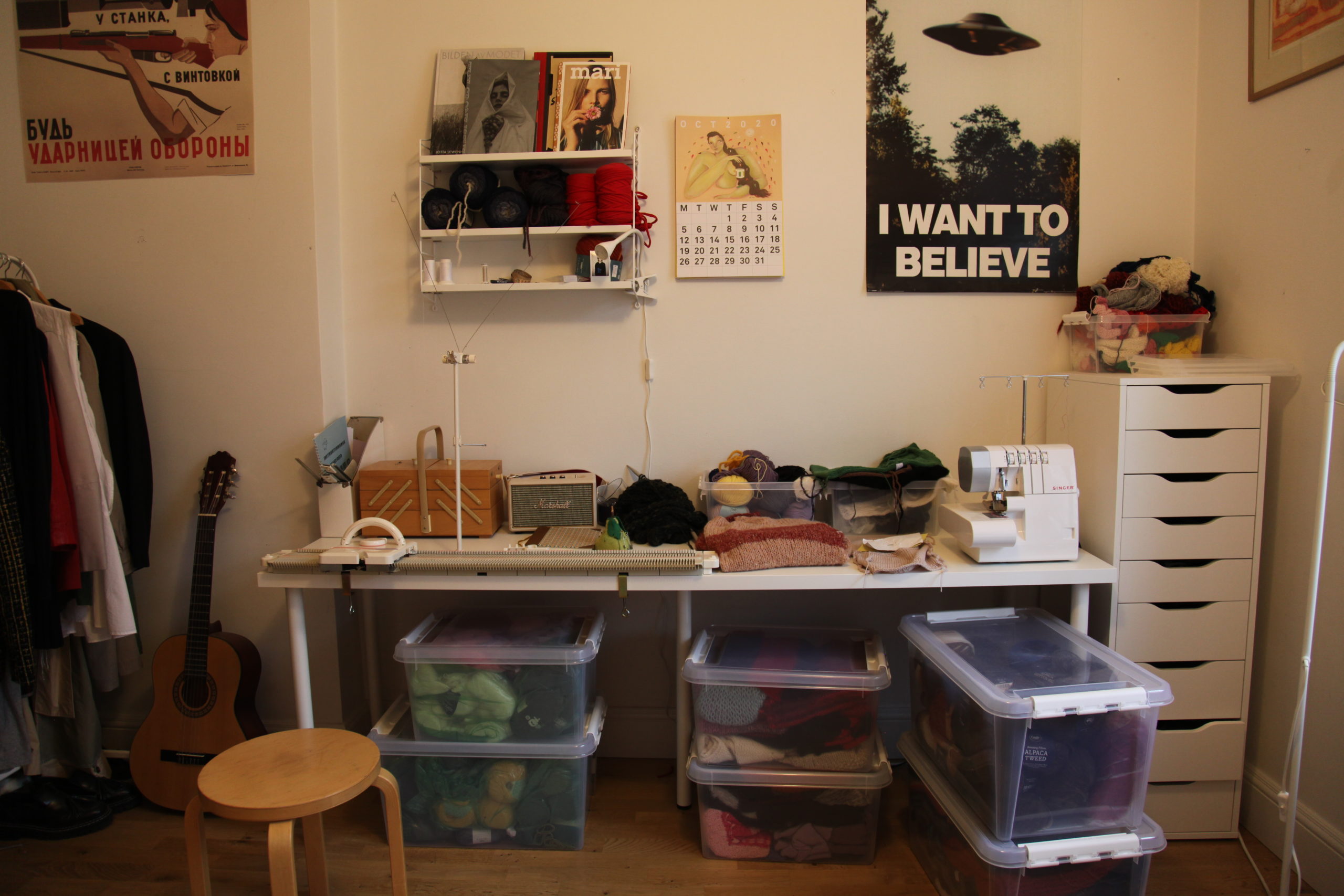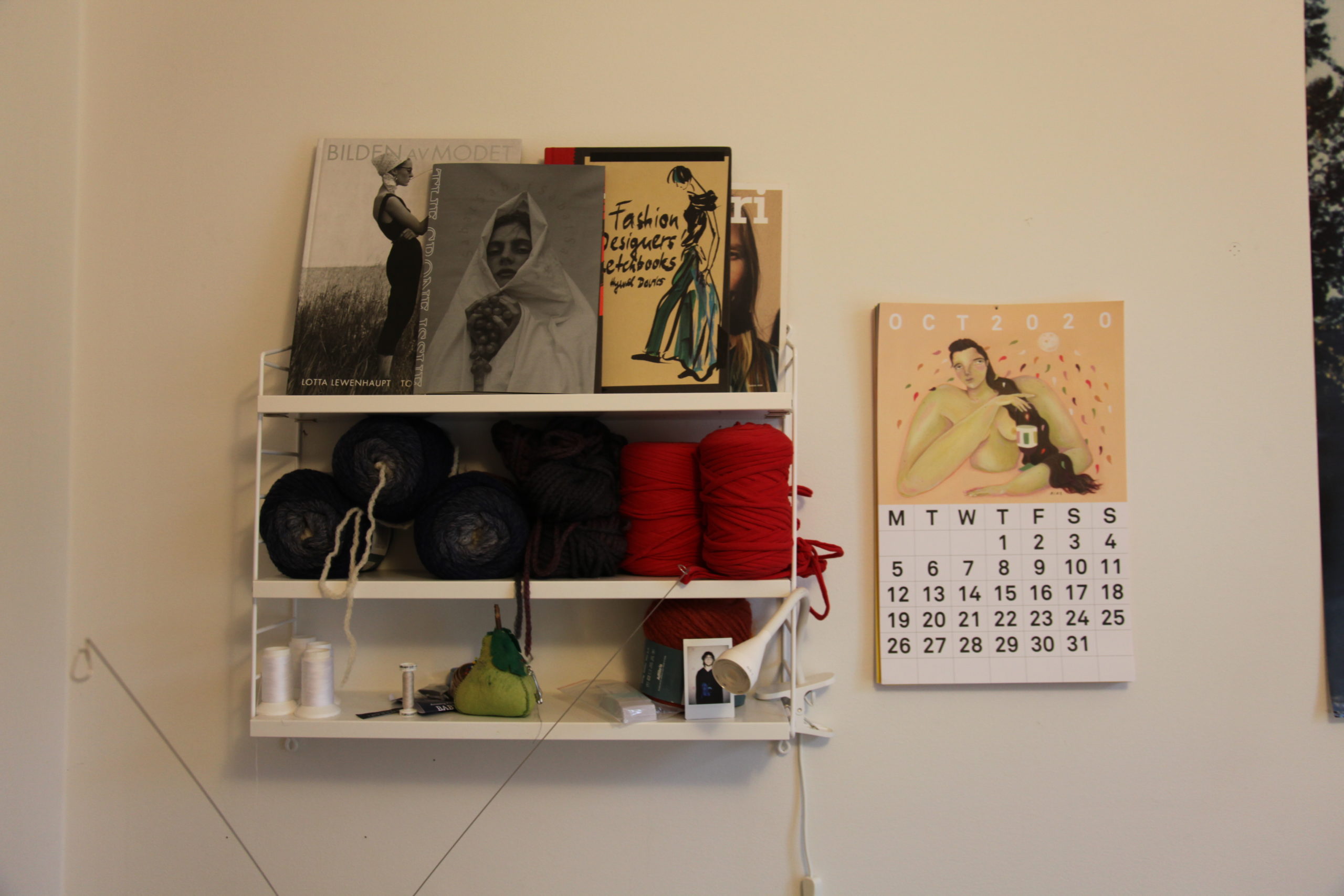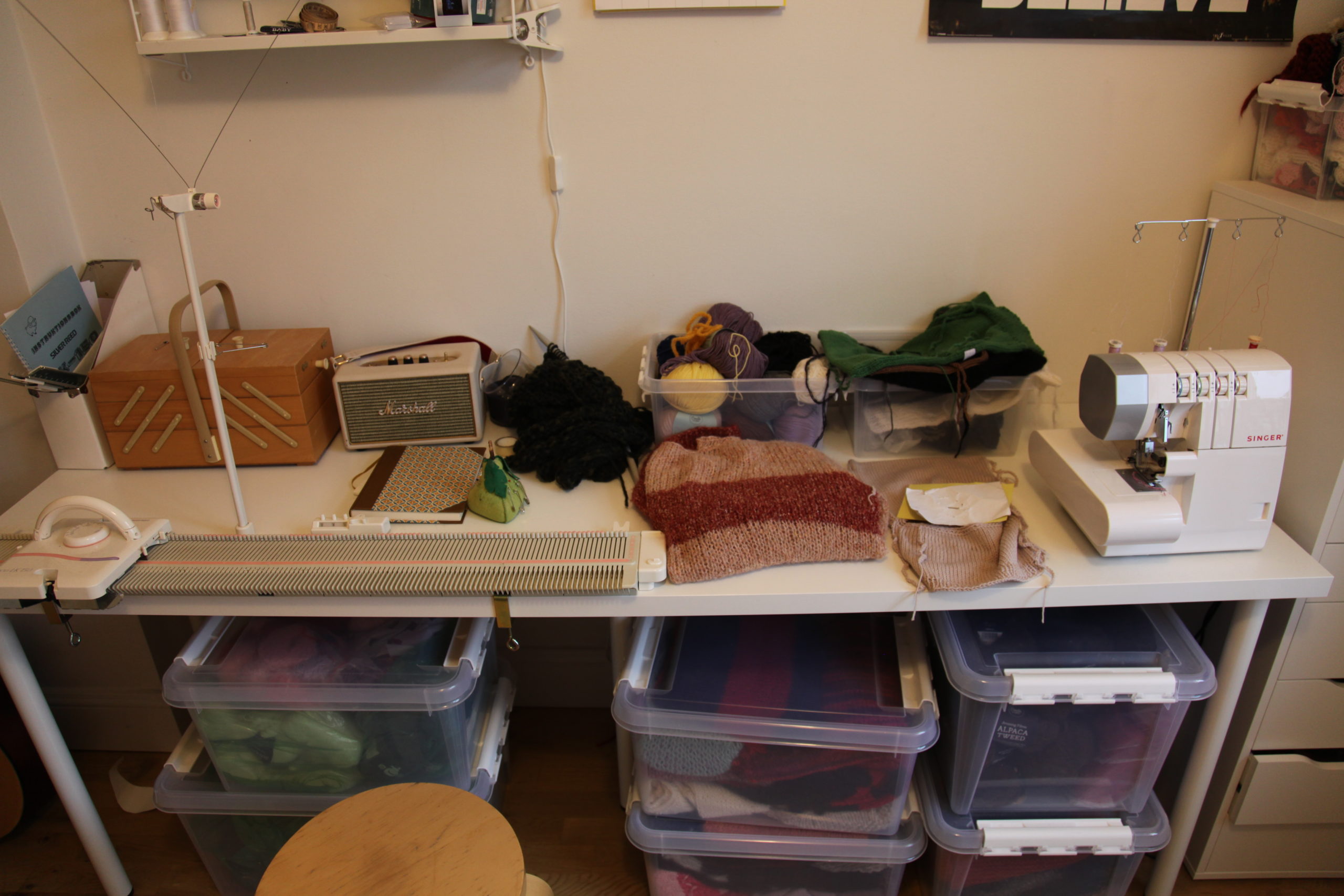 On her website, where she started to sell her pieces after giving them away to friends, there is a note next to the designs, telling the buyer how much time she worked on one piece. For a pink knit, a sweater with wide sleeves, made of wool and mohair, she needed 25 hours. Another red mohair sweater took Nelly 20 hours. Nevertheless, the process of trying and starting over again is not included in this time display. "Coming up with the construction takes me a few hours." Then she begins to knit.
Once she starts, she usually finishes a piece in the next days. She knits in the morning, does some work, studies, and knits again. "But mostly, I knit at night, watching TV." On other days, she just listens to music – and although she prefers something upheaving, knitting became such a part of her daily life that she does not have a specific playlist she turns on, when working on a new piece. It's just what she listens to on a daily basis.
Once she begins to work on a piece, it travels with her. Whether it is when she is having coffee with a friend or listening to a lecture on Zoom, she works on it. After finishing high school in early summer, she now started to study Fashion Studies at Stockholm University. While other students are struggling with having the lectures on screen and miss the social aspect of studying, for Nelly, having the lectures online rather than in person is just convenient. "I turn off the camera and knit while listening to the presentations", she says.
When I ask Nelly if she remembers the first piece she made, a smile crosses her face: "Oh yes! I made it for my boyfriend." She remembers telling him that she wanted to start knitting and he, himself a stylist and photographer, encouraged her to start. "I think it's broken now because I did not attach the single pieces right to each other. It was this very loose, purple knit with long sleeves", Nelly says while gesticulating with her hands. "The left sleeve was  super long. He wore it nearly every day."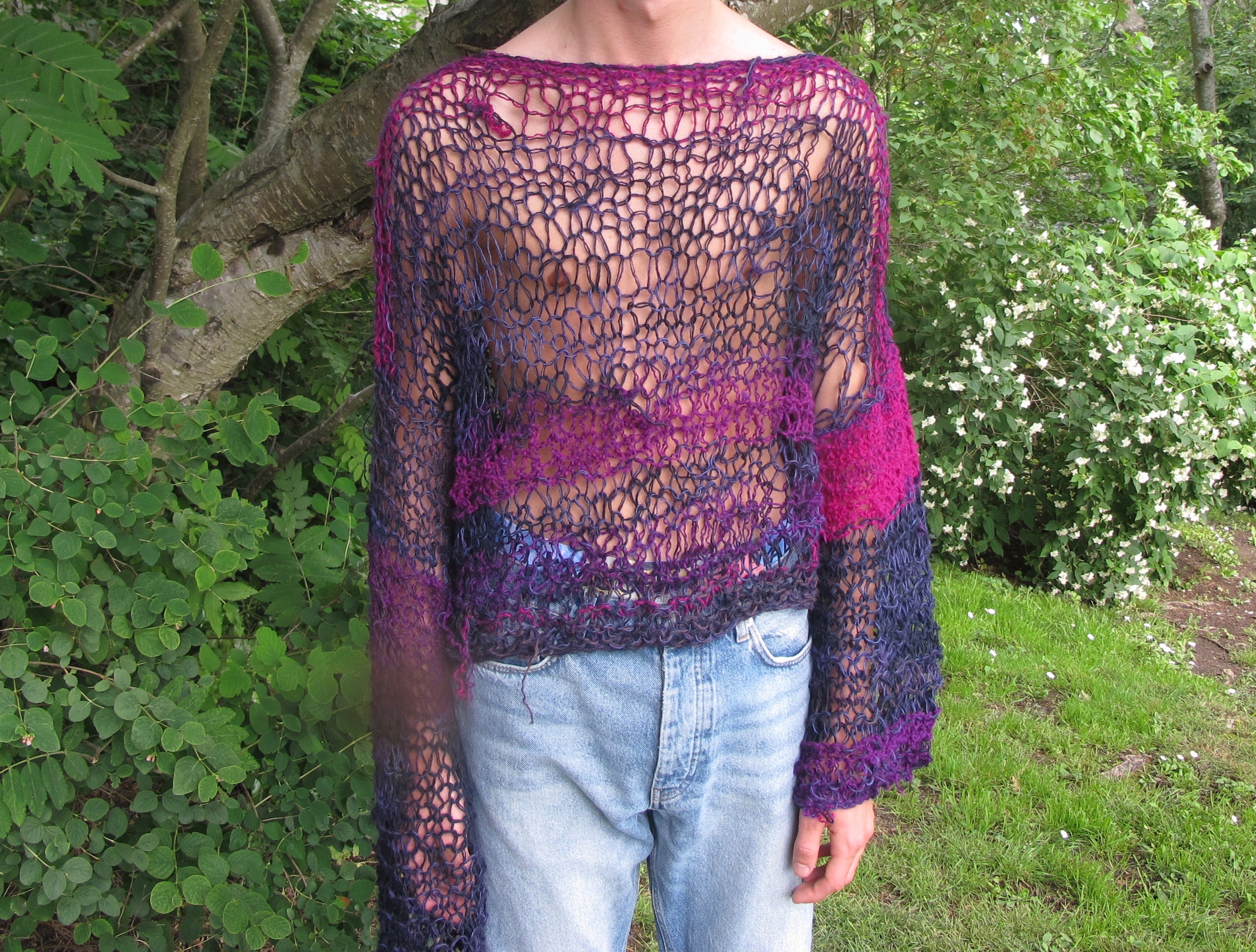 The sweater Nelly wears fits her rather loose; the wide sleeves underline the appearance of a fit that is a few sizes over her regular one. Her pieces have not always looked that way. "In the beginning I was thinking about what a garment has to provide for a female or a male body", she explains. When one scrolls through the online shop of Imaskopi, that older pieces are rather tight fitted and cropped. "I quickly realized that this is something I don't want to do." Now, all her constructions are unisex, worn and shown on women and men. "I don't want to think about how my pieces compliment your body. I feel like this is the only way to make it not feminine or masculine, just not thinking about it. If I would prioritize these things, I don't think it will be possible to create pieces like I do now." For her, these pieces should not only be unisex, but genderless. "My dream is that all people would want to buy an imaskopi sweater, not just a man or a woman," she says.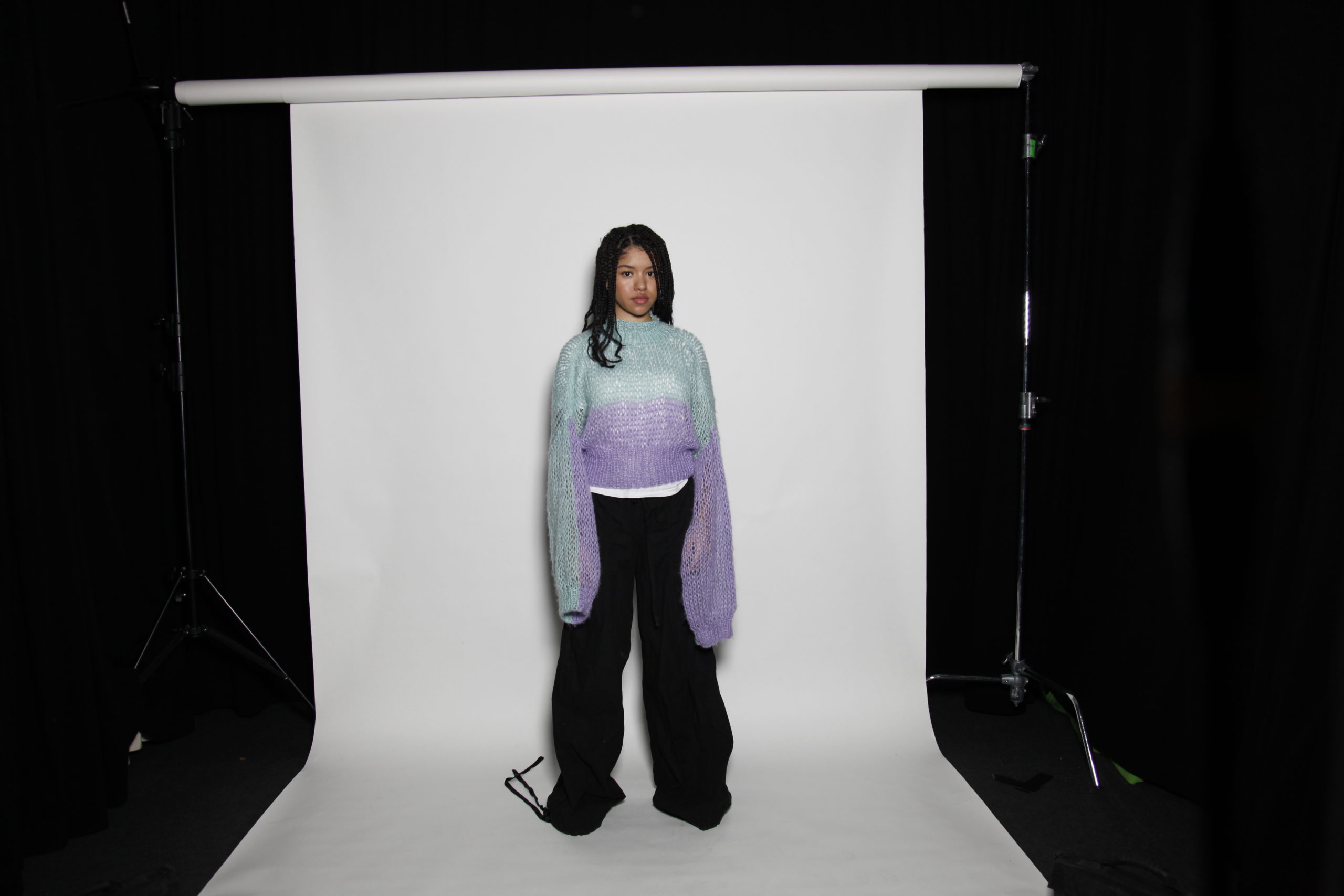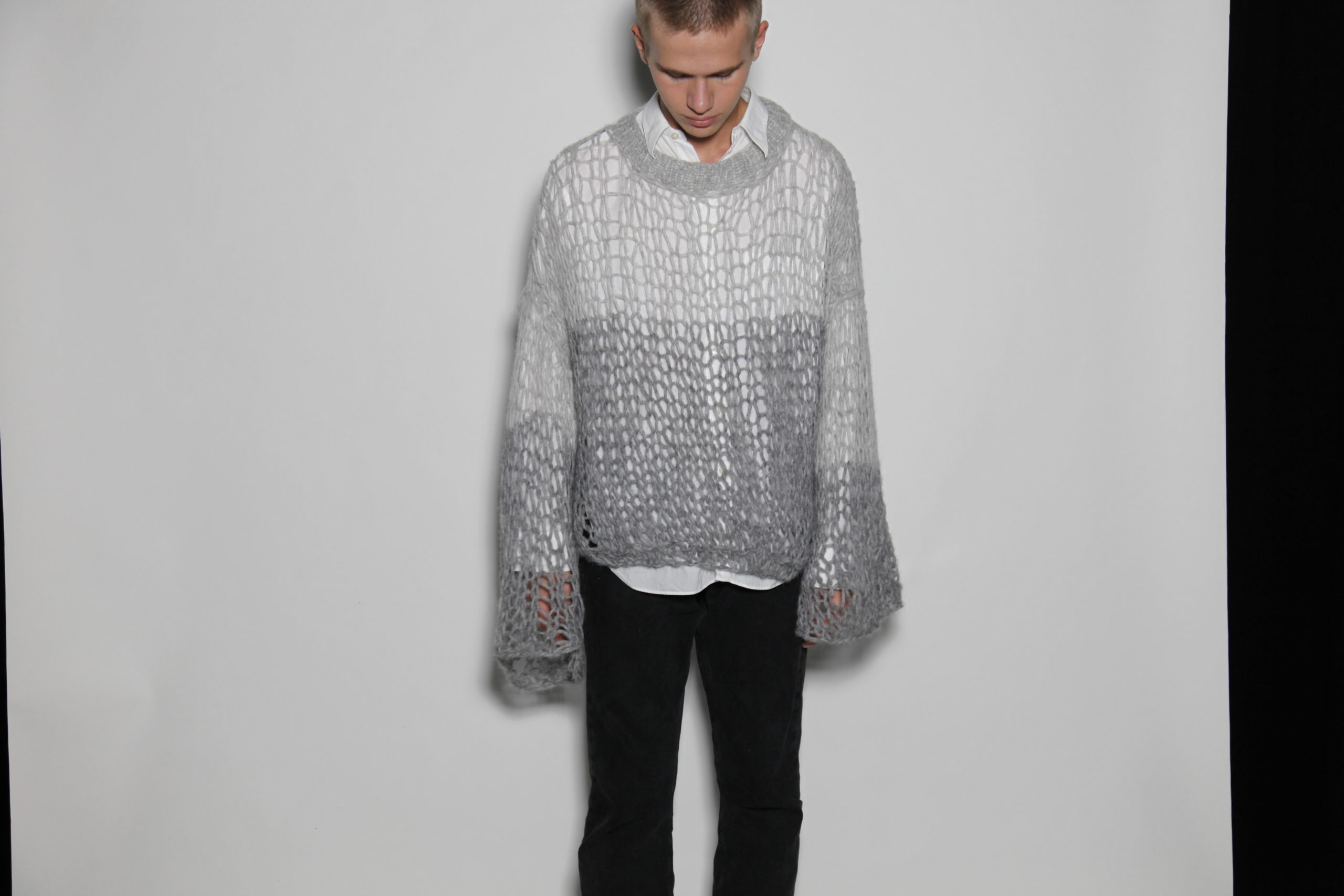 Her favorite piece has always been the red and black striped sweater with a detached arm, which is already sold. As every piece Nelly sells is unique, it will probably not come back in stock. This is partly because she never writes down details about her constructions, like how many stitches she should make. Right now, she is working on a dark green sweater with a little bit of blue in it, a knit with mohair and alpaca yarn. "I bought new stitches and I'm planning on making rather loose knit fits with patterns." After that, she wants to knit pieces with color schemes that are deemed ugly like "yellow and brown or red and pink."
Buy your Imaskopi Sweater here.
Pictures shot by Emanuel Koroly, hop over to his Instagram. 
Sieh dir diesen Beitrag auf Instagram an