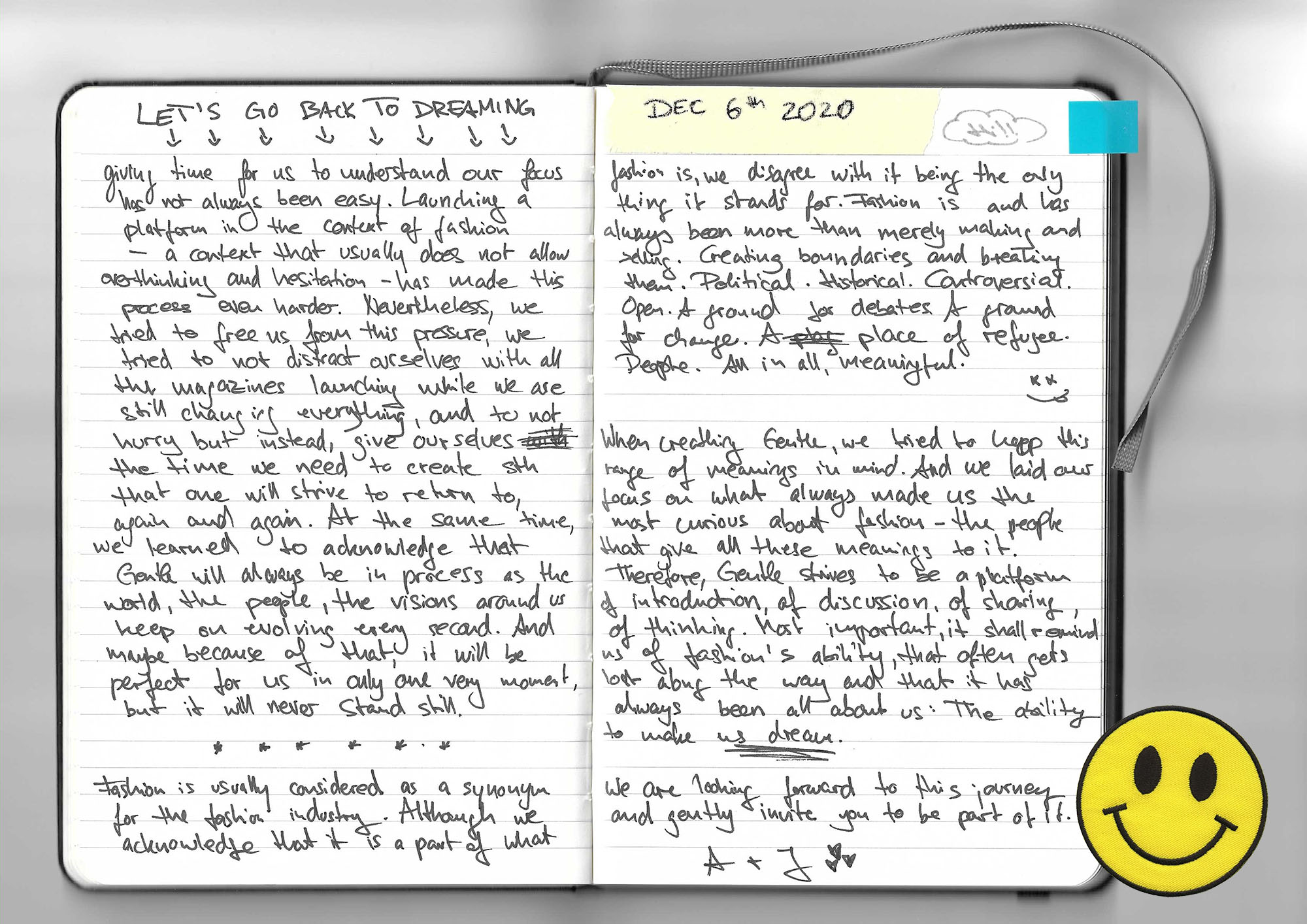 Christopher Breward in Fashion Studies : Research Methods, Sites, and Practices, edited by Heike Jenss
Giving time for us to understand our focus has not always been easy. Launching a platform in the context of fashion – a context that usually does not allow overthinking and hesitation – has made this process even harder. Nevertheless, we tried to free us from this pressure, we tried to not distract ourselves with all the magazines launching while we are still changing everything, and to not hurry but instead, give ourselves the time we need to create something that one will strive to return to, again and again. At the same time, we learned to acknowledge that Gentle will always be in process as the world, the people, the visions around us keep on evolving every second. And maybe because of that, it will be perfect for us in only one very moment, but it will never stand still.
Fashion is usually considered as a synonym for the fashion industry. Although we acknowledge that it is a part of what fashion is, we disagree with it being the only thing it stands for. Fashion is and has always been more than merely making and selling. Creating boundaries and breaking them. Political. Historical. Controversial. Open. A ground for debates. A ground for change. A place of refugee. People. All in all, meaningful.
When creating Gentle, we tried to keep this range of meanings in mind. And we laid our focus on what always made us the most curious about fashion – the people that give all these meanings to it. Therefore, Gentle strives to be a platform of introduction, of discussion, of sharing, of thinking. Most important, it shall remind us of fashion's ability, that often gets lost along the way and that it has always been all about for us: The ability to make us dream.
We are looking forward to this journey and gently invite you to be part of it.
J&A