View this post on Instagram
I am Anca Maria Barlean, founder and designer of Venus in jewels, jeweller trained in contemporary jewellery, first by taking courses at a jewellery school and then self taught, former student at the Art University in Bucharest. I am currently living in Bucharest but plan to move soon to a warmer climate because winter really isn't for me and I would also love to see the world and be closer to nature.
What was the first piece you ever created?
I began experimenting with different materials worn as accessories since early childhood. I remember making earrings , necklaces and headpieces from leaves, coloured paper or even small bones that had an interesting texture.
The first silver jewellery piece I ever created was a ring with a big green stone that I gifted to my then best friend. We don`t speak anymore but I hope she still wears that ring because it fitted her like a dream.
When did you decide to set up your own label?
Two summers ago I was on a camping trip in the Danube Delta and being surrounded by all that water opened up the gates of inspiration for me. That is why I choose Venus, the goddess born from the sea, because my brand was also born from the waters. It was quite a spiritual thing for me, being there changed my vision on life. Also the name is an allusion to Venus in furs so as in the novel I fantasised about seeing Venus wearing only jewellery instead of furs, and what that jewellery would actually look like.
Your pieces seem to be very fluid, always in movement – what inspires you to create these forms?
I always had a fascination with fluids and tried to catch an instant of them in motion, while they are dripping, pouring, being spilled. I observe the way water drops fall on my skin and from my fingers while I take a shower, the way coffee sometimes boils over in the morning, tears on my face, wine being spilled on the table, ice melting.
The ocean is considered the place where life began and without it we wouldn't be able to live so I think we should all be more conscious about its preservation and thats why my brand tries to take action in this direction. I think brands really have the power to educate and inspire people and they should use this to make much needed changes in the world.
Your pieces are called " a drop in the ocean" "seaspiracy pendant", "fluid waves ring" and you donate 3% to ocean protection – what fascinates you about the ocean?
The ocean fascinates me since childhood because it is such a different world but still interconnected with ours, full of amazing alien looking creatures so what's not to love about it.
View this post on Instagram
Where and how do you craft your pieces?
Me and my fiancé have a small studio in Bucharest and this is where everything happens from designing, carving to casting and setting stones.
Who do you have in mind when creating new pieces?
My jewellery is for any person that wants to embrace their feminine side and feel like a goddess. It is for people who celebrate life and live it in the present but face the future, adapting, transforming, reinventing themselves, who want to be sustainable while being glamorous.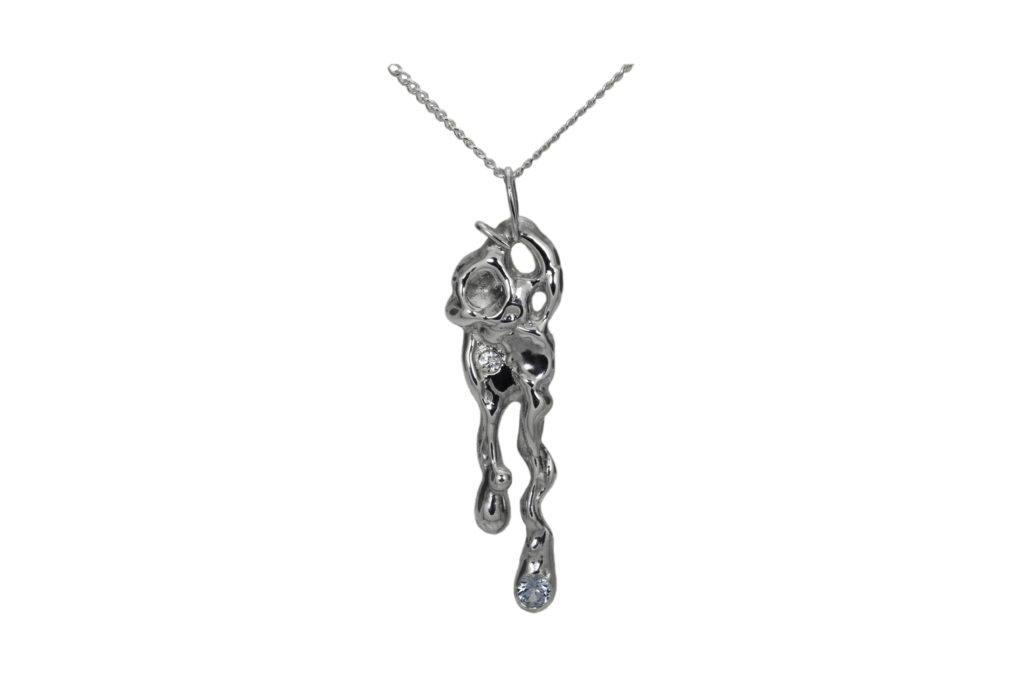 What do you want to create in the future?
In the future I plan to also use gold in my creations, and continue to explore fluid shapes, source beautiful unique pearls and also continue to understand how the brand can have a positive impact on the planet.