I decided to apply for the master's degree the moment I finished reading the brochure, handed to me on a Master's Fair in Frankfurt, where different universities from all over Europe presented the courses and programs they offered for international students.  I accompanied a friend and was not planning to continue my studies. In the midst of writing my bachelor thesis, I thought I should begin to work after completing my degree.
But the words "As a fashion student you will gain knowledge about the fashion system from historical and contemporary perspectives; recognise the main factors behind the development of fashion and acquire the necessary tools to analyse and understand the world of fashion," convinced me.
Some weeks after beginning my studies, I got to know Anna through a mentorship programme. Anna finished the program one year before I began to study it and decided that she wanted to continue this journey as a PhD. Her office is located at the long corridor at the Centre of Fashion Studies, in the west wing of Filmhuset, the Swedish Institute for Film. Right next to our study hall, where we used to have lectures before the pandemic hit Sweden and the University shifted from on-site-lectures to remote learning. As we are in the midst of a pandemic now, we met over Zoom on a Friday afternoon, when the sun already set, as it does in the Stockholm November at around 3pm. The last time I met Anna in her office and took these pictures was one year ago, on another grey Friday afternoon.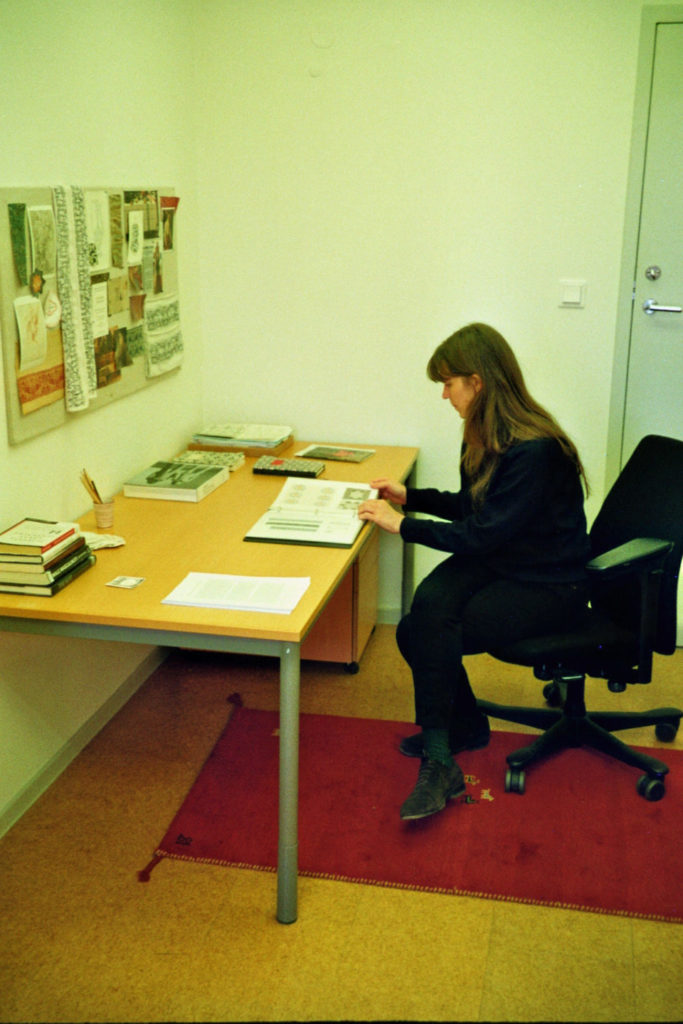 Anna showed me around her office, pointing to the pictures and fabrics on the wall, telling me about her first single exhibition she had in New Jersey. Anna is not only a PHD in fashion, but also an artist – two roles that affect each other, as we will learn. Back then, she occupied the living room in her shared apartment for about a year long with magazines, papers and cuts. During the day, she restored antique books and at night, she worked as a waitress to save money for the fee to study Fashion Studies in Sweden. She showed me her artist's map that she applied with for several jobs in New York, where she planned to stay after finishing her master thesis – and before deciding to go back to Stockholm to start her research as a PhD candidate.
When people ask me, what I am actually studying or when I hear comments like: 'Oh, so you're studying shopping?' I don't know whether to laugh or get real annoyed. So I decided to ask Anna. For all of you interested in fashion and for everyone who is fascinated by it, but is not yet able to articulate where this fascination stems from.
What is it that one can study about fashion, Anna?
How did you come to study Fashion? 
A: "I arrived at fashion studies as a master student after finishing my undergraduate studies in art history and studio art and taking a two year break. I always had a general curiosity about fashion because of my own experience with clothes. I began to explore that interest intellectually as an art history student in an art history class where we were focusing on the history of fashion. But then I was also interested in it as a student in studio art where I was centralising most of that work on questions of my own embodiment in order to explore the themes of memory and identity.
I was specialising in mixed media, but mostly focusing on sculpture. My body became an extension of that practice. When I was working with porcelain, I was using my clothes and my body as moulds to make these sculptures out of porcelain. Or I was using clothing, I was dying it and reflecting on how my experience with that clothing was. My every-day clothing became a medium through which I was working in the studio. On the one hand I was studying historical narratives of fashion in the class room and on the other hand I was trying to make sense of my own embodied experience with clothes in the studio. At the time those two projects, the study of history and my art practice felt pretty separate. My hope with pursuing an MA was to find a way to combine those two interests."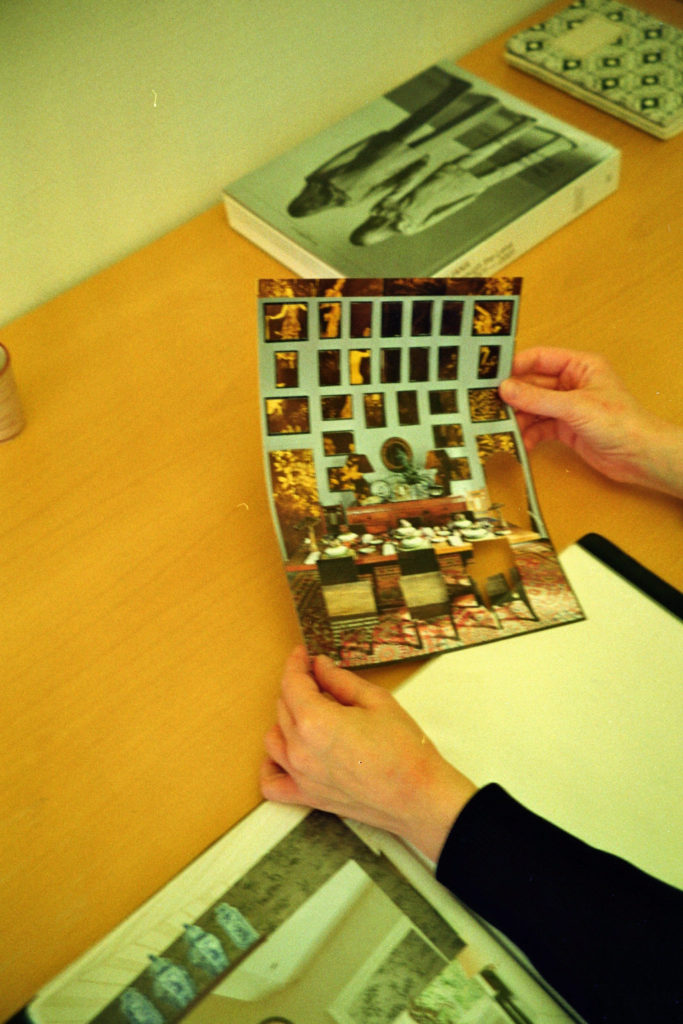 Did Fashion Studies help you to combine these interests?
"Yes. But it took a long time for me to figure that out – or find ways to work through that. Research is based on texts, so you not working hands-on. Part of what has always been essential to my work as an artist were objects and materials. So in that sense that is not present. But my training as an artist did not only include material manipulation, working with the hand. We were also trained to think as an artist. So a lot of that training in terms of thinking as an artist began to come through in my fashion studies work as a master student. This is when it began to take shape."
How do your roles as a researcher and as an artist affect each other today? 
"I think there are many ways in which my training as an artists has facilitated and helped my work as a researcher. It is of course partly the knowledge of working with materials, manipulating objects, the tactile qualities of that training. Also my training as an artist has been useful for my research in terms of how I think about fashion. So much of the strengths of artists is in how they approach the world and incorporate those experiences, those interactions into their world and creativity. Creativity is work, so I am finding ways to use that creativity in my research as I work with theories and actual things from the world."
"It is always being challenged. I think the one thing that worked in my favour when I started the master's program was that I was very curious. Partly because I was coming from an art background and art history. I was very much focused on my art practice. So I did not really have any training in fashion as a master's student. I was curious when I arrived. That helped me shape my interest in fashion studies, not just in fashion."
What made you continuing this journey as a PhD?
"I had no intention in doing a PhD. That was not part of the plan. Career-wise I envisioned myself doing something tactical whether that was continuing my practice as an artist and then finding a way of integrating these questions that I was already having about clothing and the body into my practice. Or even working with objects in a museum as a curator or conservator. Or finding more practical work, like sewing, tailoring and working as a seamstress. As a master student these sounded much more interesting to me than pursuing a PhD which felt so stationary, which was not attractive to me at all.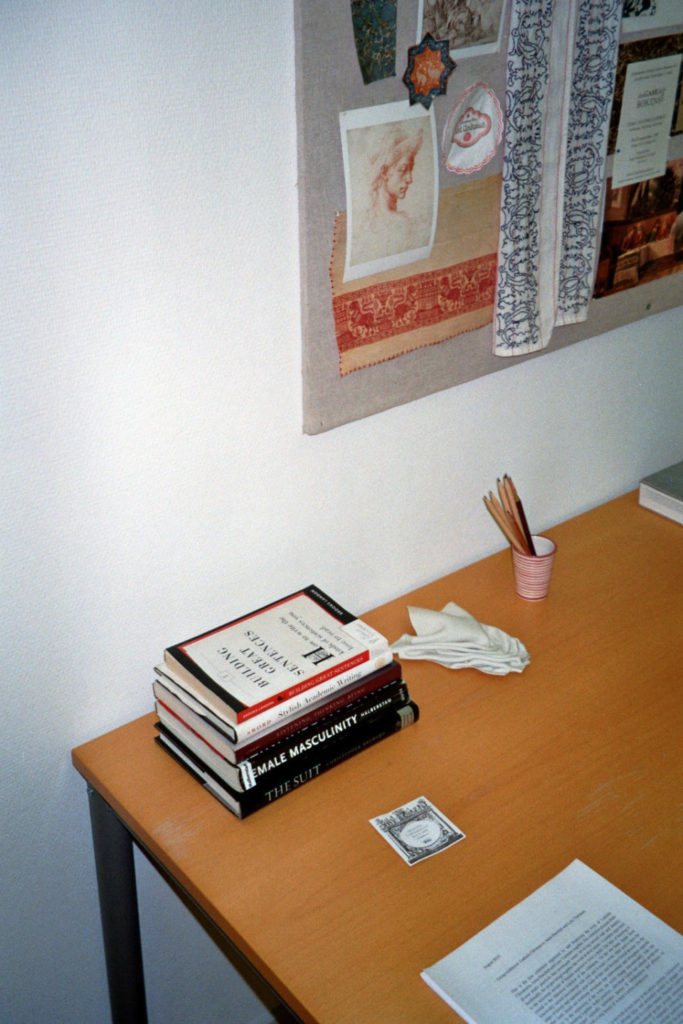 But as I proceeded in my master's work, especially my masters thesis, I became pretty emotionally invested in my project. And while this was happening I began to discover that many of the skills I am learning as an artist were actually really facilitating my research process in ways that felt important and rewarding for me personally – and something that was worth pursuing professionally. But it really wasn't until after I completed the MA program that I began to consider pursuing a PhD. This was not something I planned to do."
Do you remember a special moment in which you decided to take this direction and apply for the position?
"When I finished the MA program and began to apply for jobs, I realised that I have a lot of skills but I don't have very marketable skills. I don't necessarily have the kind of skills that will help people make a lot of money. But it turned out that research was something that I could envision myself doing after I spent six months working on my master thesis and finding that rewarding. As I dwelled on the idea of doing a PhD, I could also envision myself teaching and working with students and doing research. Then suddenly things felt much more interesting and viable for me. It was not a single moment when I decided but more of a progression."
How would you define FashionStudies?
"I myself still do not have an answer. I am still developing it for me and my work. What I can say is that what initially drew me to the fashion studies program at Stockholm University and over every other program was the way that fashion studies was defined on the department's webpage at the time I was looking. The reason why I wanted to study it at Stockholm University was that they were defining it in a very open manner that seemed to invite an expansion of that definition rather than a ratification of it. Still now that is really important for me and how I work in fashion studies."
What can you study about Fashion?
"It really depends on what one is interested in. That is not always really clear and it wasn't for me when I started. I just knew that I had this interest in fashion. Part of discovering what I could study in fashion studies  was continually asking myself why fashion was interesting to me, why is it important for me to pursue this. I do not have examples but I have questions. I think this is an important one.
There are not set things that you can study about fashion. Be open to explore things that maybe do not seem straightforwardly related to fashion."
What are the biggest misconceptions about Fashion Studies?
"From my experience, fashion studies has been looked down on although I think that this is changing. But I think that has to do with pretty closed definitions of what fashion is in society, which is why we need fashion studies to open up that definition again.
A common misconception is that fashion is limited to an industry which is a very limited understanding of fashion.
It can be very frustrating. I think that when I had just started, I took comments in this direction personally but now I understand that it is just that society has a very limiting understanding of fashion. So now it is our job, right? To develop a more beneficial and affirming definition of that."
How can people start to learn more about Fashion?
"The obvious question is whether or not they wear clothing and then to think about the role of that experience in their lives. I do not think anybody is entirely separated from fashion. I don't mean the industry necessarily. But it, again, depends on how you define fashion.
Which three readings have changed the way you define Fashion?
"I guess I am immediately drawn to books or texts that I encountered as an undergraduate student which began to stir my intellectual interest in fashion. Two of these being 'Sex and Suits' by Ann Hollander and 'Body Dressing' edited by Elizabeth Wilson and Joanne Entwistle. A third would probably be a book that I encountered as a master student which was not written in fashion studies, but from feminist theory, Rosi Braidotti's 'Nomadic Subjects.' That book was particularly influential for me in terms of what fashion studies can do and I think it was important too that this is a book that comes from outside from fashion studies. Finding ways of incorporating other fields and bringing larger questions into fashion studies."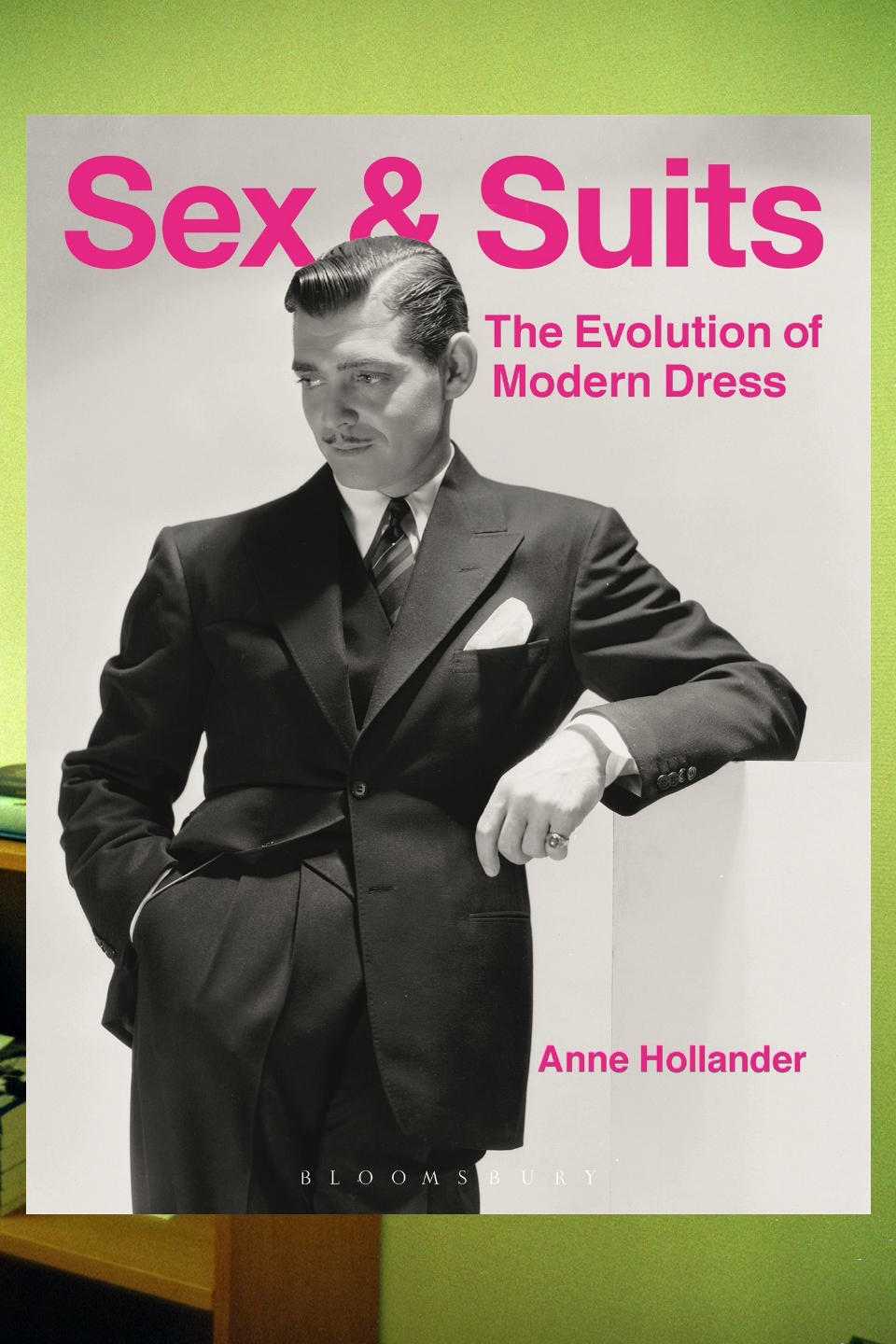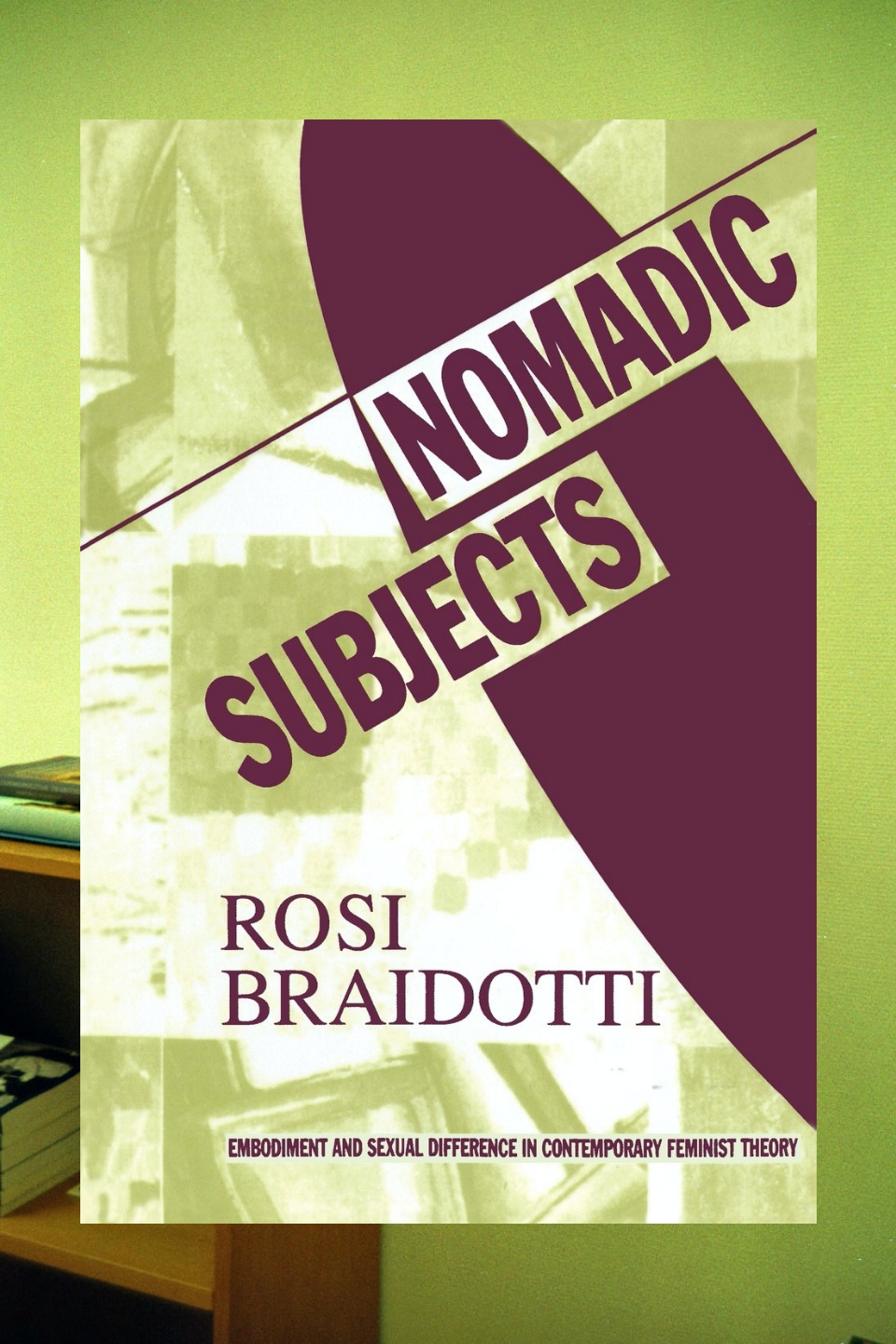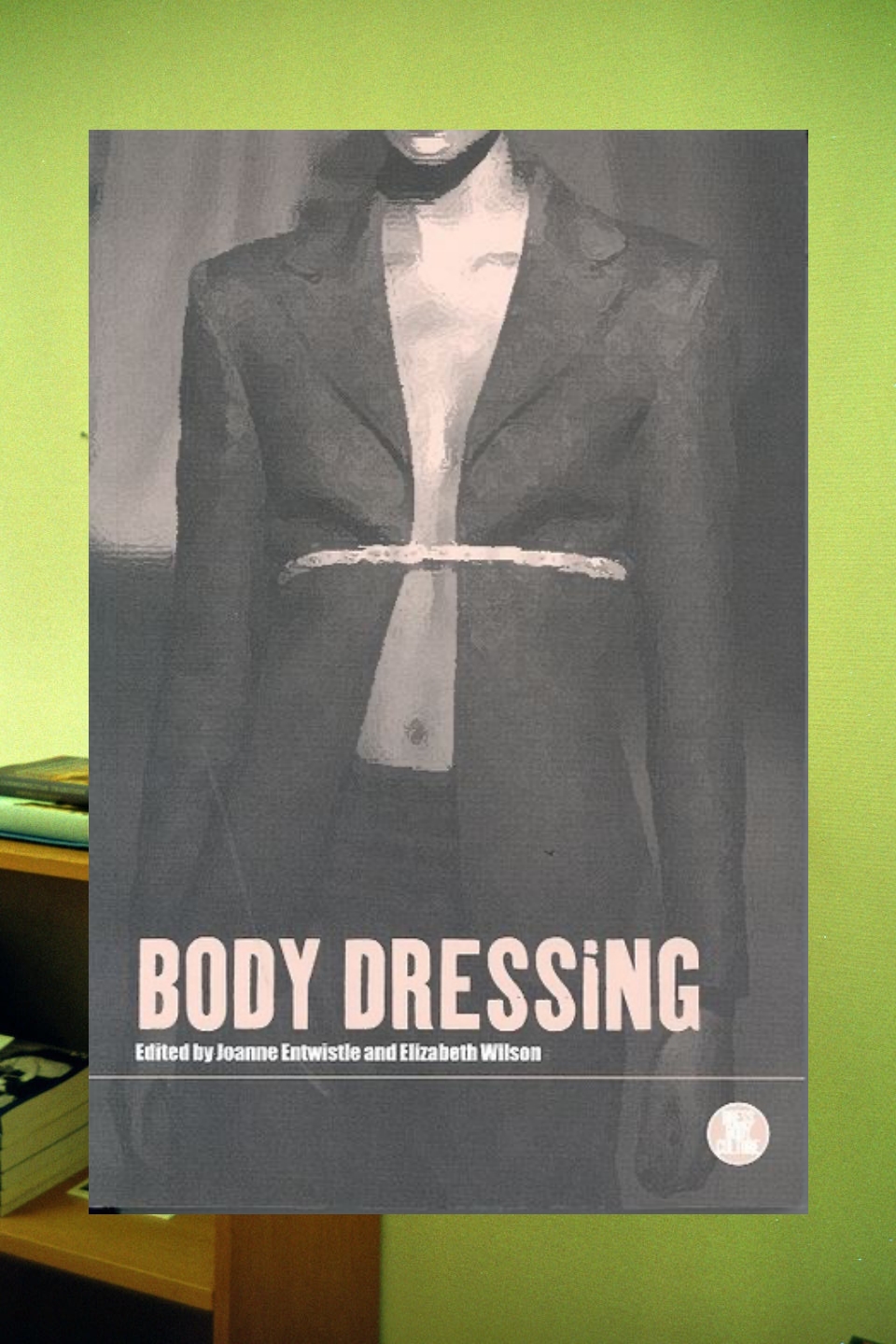 What does Fashion mean to you today? 
"I cannot honestly say that fashion in itself means anything to me. But my experiences with fashion are personally meaningful. And of course my experience in fashion is an affect of how society defines fashion and places value on that definition. Particularly in terms of gender but also in terms of industry and labor and sustainability.
Again, exploring what we mean by fashion and reworking that definition into something affirming and beneficial for society has become a personally meaningful project."
What would you like to tell someone who is thinking about studying Fashion Studies?
"I spent two years debating whether or not I wanted to pursue it. Then I did and it ended up being an overwhelmingly positive experience. But again, I think it is important for one to ask why they are interested in it and go from there. But even if your interests are ambitious: Don't be afraid of that ambition."