Vanessa Ho Yi Cheung is a first year student in Fashion Design Womenswear at Central Saint Martins. We talked to her about the first dress she created – about her visions, memories, and the future.

"I am originally from Hong Kong but have lived in London since I was 6 years old. I grew up in Kingston Upon Thames, but have moved to King's Cross for University. My main source of inspiration is my family and our personal experiences throughout life. Growing up between Hong Kong and London, I never felt like I truly fit in anywhere. In London, I was seen like a foreigner. I ate different foods, and I had a different appearance to my peers. Whenever I visited Hong Kong, my mannerisms were found too 'foreign' too."
"I now love blending these experiences and communicating the differences between my Hong Kong Chinese cultural heritage and my British identity in my work. By merging contrasting cultures and perspectives, I sometimes bump into harmonious and beautiful design ideas. I am always looking for opportunities to collaborate with other creatives!"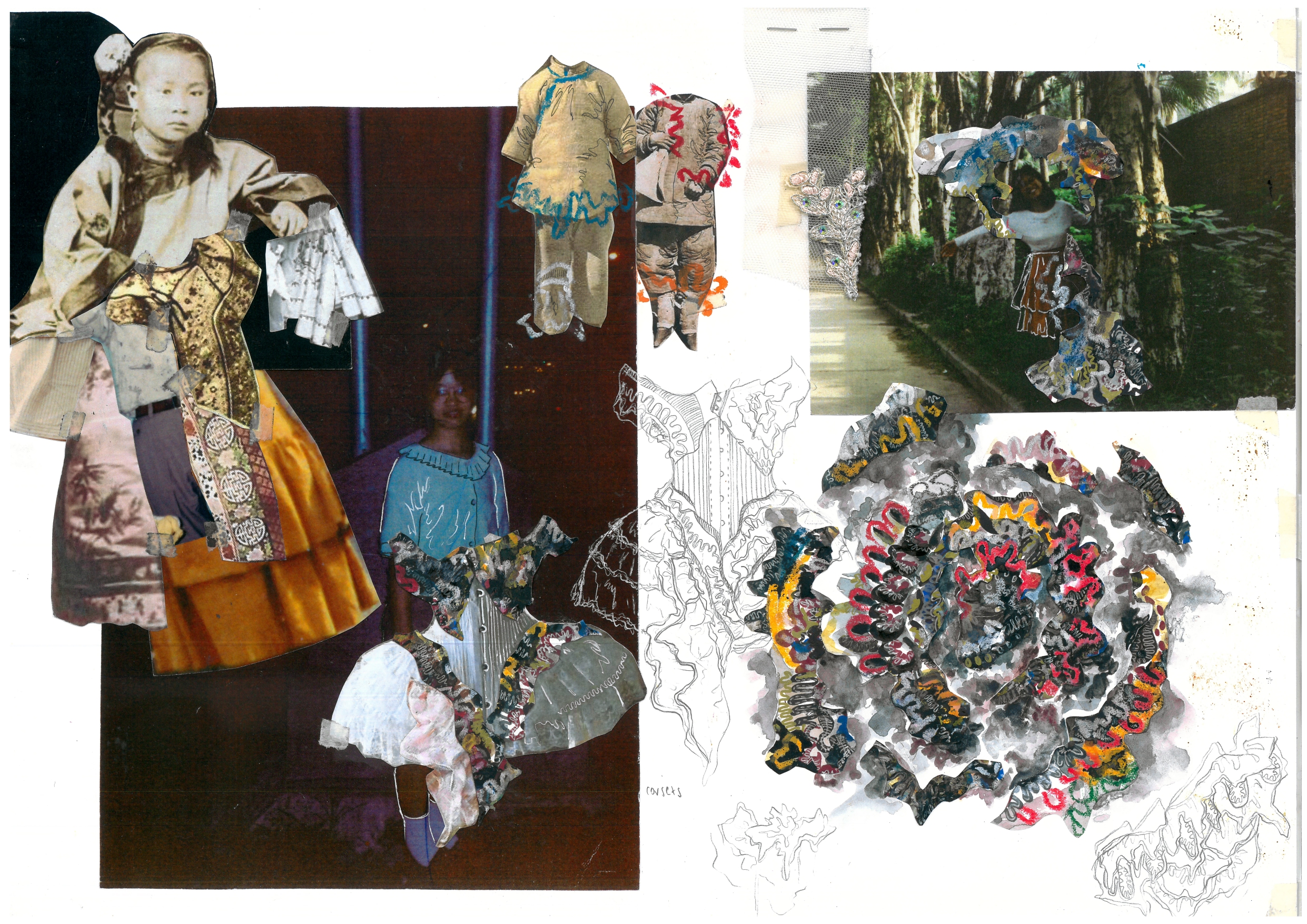 "The project shown here is my 'White Project'. We were given 3 themes, and within that I chose the theme of 'Lovers'. My project is about how we can fall in love with our memories, but majority of the time, our memories are inaccurate, distorted or broken. We were given very specific white fabrics to make our garments. The fabric I chose to use was sustainable 'Ultrasuede'. I think this was a great start to my Central Saint Martins journey because it allowed me to focus more on the silhouettes and patterns of my design rather than prints or colours."
How would you describe the dress you designed?
In three words, I would summarise my garment as 'Elegant, Dreamy and Ethereal'.
What was your vision when creating the dress?
Whilst I was making this garment, I imagined that the final garment would be like something that my younger self would have dreamed of wearing. I used to perform a lot of dancing. I always loved being dressed in beautiful dance dresses. My younger self also fancied dressing up like in a fairy tale. Thus, during my design development, I wanted the overall vibe of the garment to be dreamy, ethereal and fairy-like. Additionally, my project is about broken memories and my younger-self dream-filling the gaps in memories, so I wanted this garment to be ethereal, almost ghostly.
Can you describe the childhood memories that drew on?
"For this project, I took inspirations from my childhood memories of my Chinese dancing performance, and a specific carousel-riding experience in Hong Kong when very young. My carousel memories seem like a dream, with the lights of the carousel all blurry and spinning in slow motion."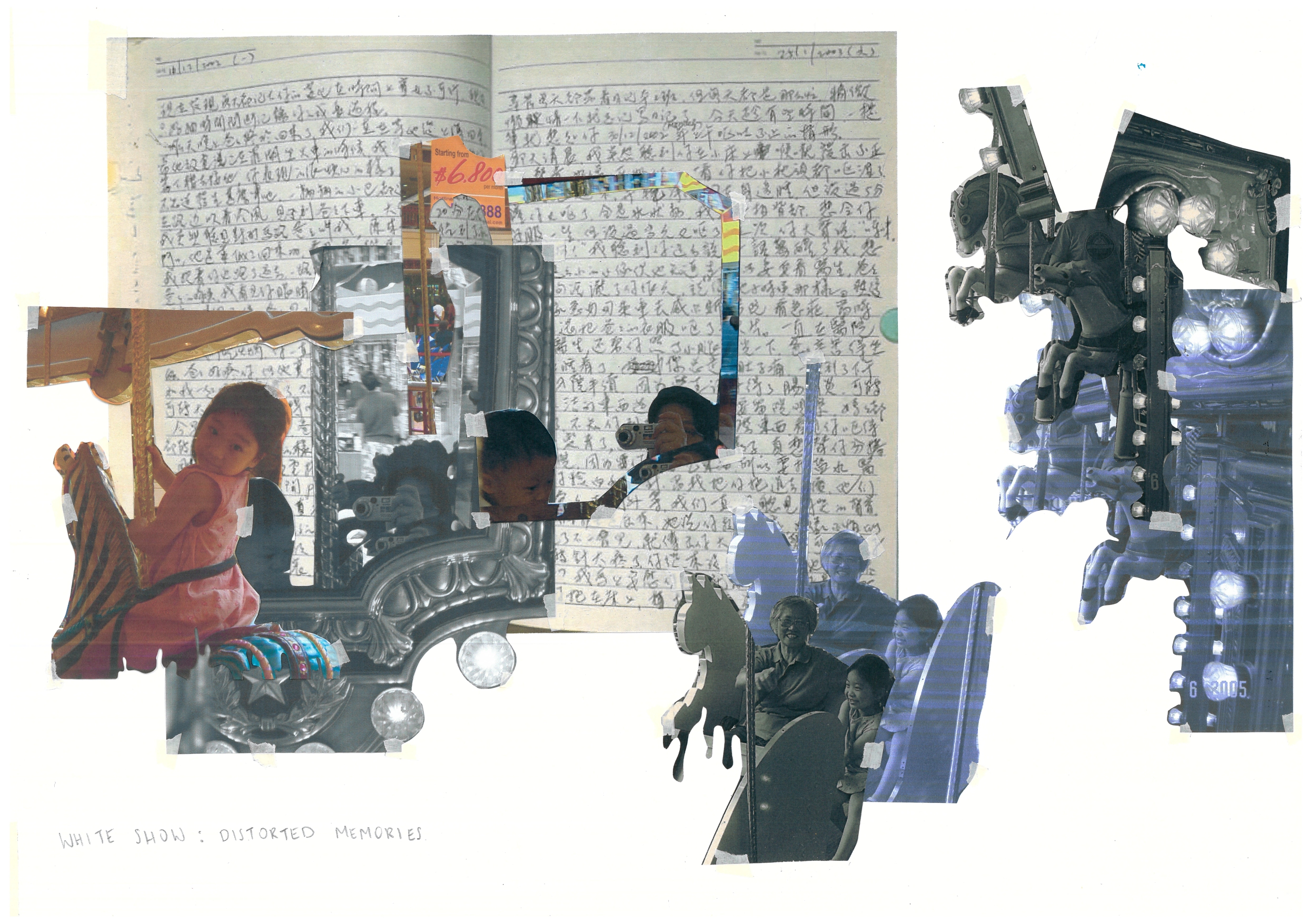 When the Coronavirus situation is improved, I would definitely love to revisit the specific carousel in Hong Kong and shoot some reminiscent photos/videos of me in my garment riding that carousel.
When we saw the dress, it instantly reminded us of a dream world. You wrote that you explore the gaps of our memories. Can you explain this further? Where does the desire to explore these memory gaps come from?
I have always loved to go through our many family albums, exploring my parents' stories behind those photos. The photos trigger some memories from them, some as vague as dreams without much detail. As a curious child, I wanted to know everything about my parents' life before they had me. I often filled the gaps of their memory by dreaming about what could have happened. This project allowed me to visually express the dreams that I used to fill the gaps of memories.
How is this idea mirrored in the details of your construction?
Some specific components in my childhood memories, like ribbon fans, handkerchiefs and my movements in Chinese dancing, the moving and flashing lights in a carousel ride, give me profound dreamy feelings. Inspired by these, I combined in my design development all these components and created toiles from them. These toiles further inspired my final designs.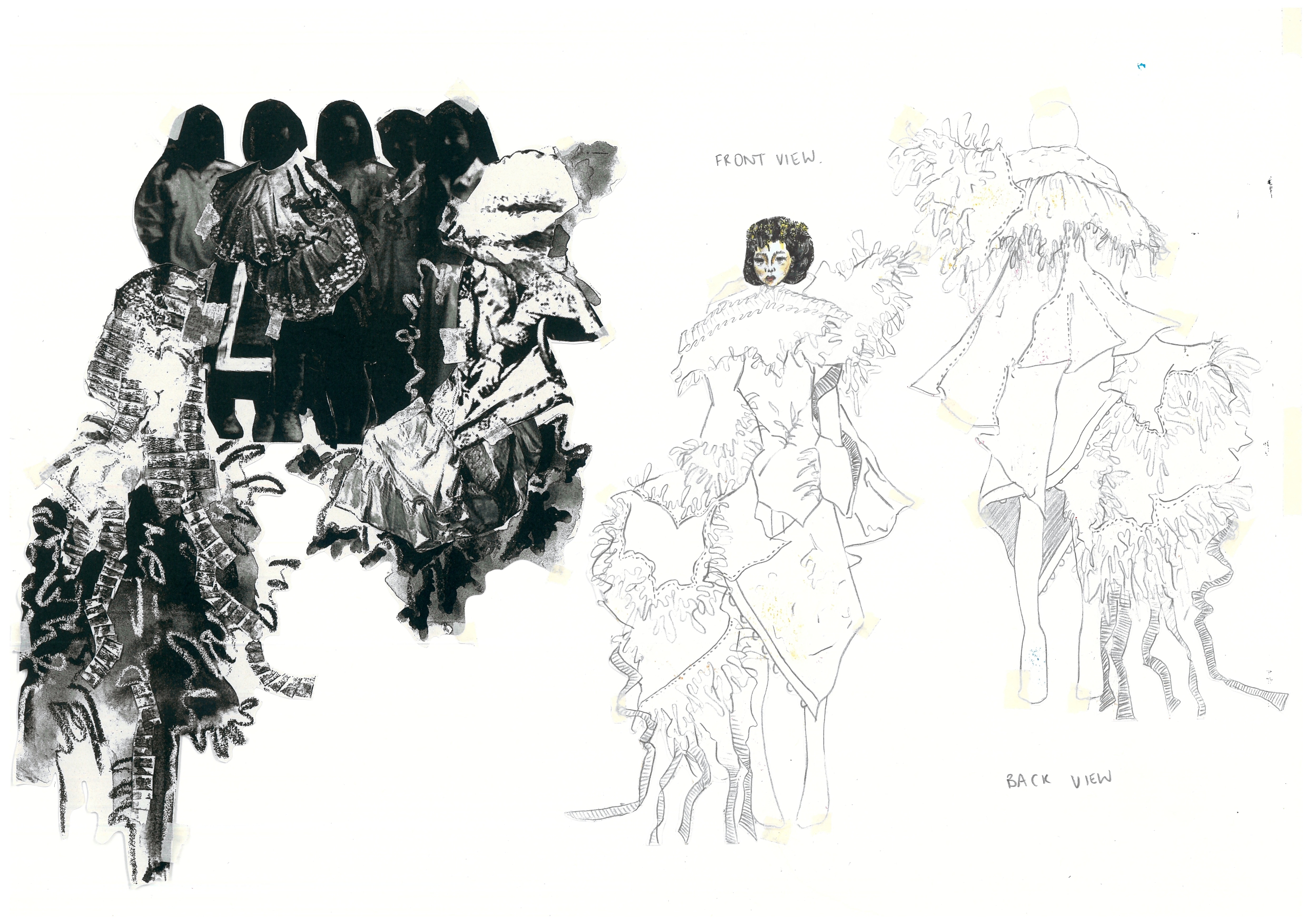 How did the process of crafting the dress look like?
 It was both magical and disheartening at times. Since it was my first-time cutting patterns properly, it was really a trial-and-error journey. Lacking experience, it was not straightforward for me to realise a few mistakes in my patterns until I have sewn the pieces together. For example, I had to make my own pannier for my skirt. Since we have not been taught the patterns for a pannier in the class, I had to figure out the shape and size of it by myself. In total, I made 5 panniers before reaching the right shape and size for the skirt.
On the other hand, I am glad that I have experienced the ups and downs of a young designer's real life. I initially felt like being thrown in the deep band full of unknowns and uncertainties. I wanted to try more experimental patterns but mistakes were slowing me down and time is constantly ticking against me. The project has taught me that in design, there will be stressful times where things do not go my way; but if I get past the obstacles, then I will come out more experienced and knowledgeable. In the end, it is fascinating and rewarding to see myself actually creating various patterns out of flat pattern pieces and assemble them into something wearable that reflects my elegant, dreamy and ethereal theme.
What were the biggest challenges?
I encountered many challenges during the construction of this garment. I'm quite new to pattern cutting and sewing, so this was the first proper garment I have ever made. With Covid-19 restrictions in University, we did not have much time with our pattern cutting tutor, so I had to figure out most of the things myself, despite zero experience. Due to this disadvantage, I was working a lot slower than some of my course mates, who already have pattern cutting experience. This put a lot of pressure on me because at times I felt left behind and hopeless on getting past that obstacle. Despite the challenges, I self-taught a variety of pattern pieces and managed to work everything out. I now understand a lot more than before and I cannot wait to apply my new skills to my next project!
Where would you like to be and where would you like to go after your Bachelor?
I've always dreamt of having my own brand in the future, promoting fluidity between genders and sustainability in the fashion industry. In my spare time, if I ever have any, I would probably spend it by playing with my future 10 dogs in a cute house!
What makes you dream?
The future. I have so many dreams to fulfil in my future. It gets me excited knowing that this is only the beginning of my journey and that a lot will happen later in life!